One of our favorite dishes here at The Ranch, this salmon is the perfect main course for an outdoor summer meal.  Enjoy this recipe from the Ranch cookbook, "Cooking with the Seasons at Rancho Puerta" by Deborah Szekely, Deborah Schneider and Robert Holmes.  
In the age of the grill, the subtle and simple art of poaching is worth rediscovering. Slow-cooking in a wine-laced, aromatic herb court bouillon keeps fish moist and delicious. Choose a wild troll-caught salmon or substitute other firm seafood, such as fresh Alaskan halibut or shrimp.
French tarragon is finicky, delicate, and difficult to grow (Tres Estrellas has one tiny, precious plot), but it's worth the effort. It has a distinctive, almost lemony flavor that holds its own with the rich salmon and avocado.
Poached Wild Salmon 
Serves 6
Ingredients: 
2 bay leaves
3 sprigs fresh dill
2 sprigs fresh basil, tops only
2 sprigs fresh flat-leaf parsley
2 thin slices white onion
2 slices lemon, lime, or lemongrass
5 whole black peppercorns
¼ teaspoon sea salt
½ cup white wine or apple cider
½ cup water
6 pieces fresh wild salmon, about 5 ounces each
Basil-balsamic Dressing (recipe follows)
6 cups mixed greens
Avocado-Tarragon Aioli (recipe follows)
6 fresh tarragon sprigs or fennel tops (optional)
6 lemon wedges
Directions:
In a large sauté pan, combine the herbs, onion, lemon, peppercorns, salt, wine, and water, and bring almost to a boil over medium-high heat, to make a court bouillon. Reduce the heat to low and simmer for about 3 minutes.
Add the salmon and continue to cook the fish with the lid ajar over low heat for 10 to 12 minutes, or until the fish flakes easily with a fork or reaches an internal temperature of 140 degrees F. Be careful not to overcook the fish (see Note) or allow the court bouillon to boil. Cool the salmon in the court bouillon.
When cool, remove from pan carefully with a slotted spatula or spoon. (The fish may be made ahead to this point and refrigerated, wrapped, for up to 24 hours.)
Lightly dress the greens and divide among 6 plates. Set a piece of salmon on the greens. Spoon about 1 tablespoons of the aioli on the salmon, or serve on the side. Add a sprig of tarragon for color, if desired, and serve with a lemon wedge.
Note: As a rule of thumb, fish needs to be cooked for 10 minutes per inch (measured at the thickest part). Fully cooked fish will flake when gently pressed with a finger. Undercooked fish will still feel soft in the middle. All fish are moister when slightly undercooked.
Variation:
✦ Serve atop thinly sliced ripe tomatoes, drizzled with a touch of aged balsamic vinegar.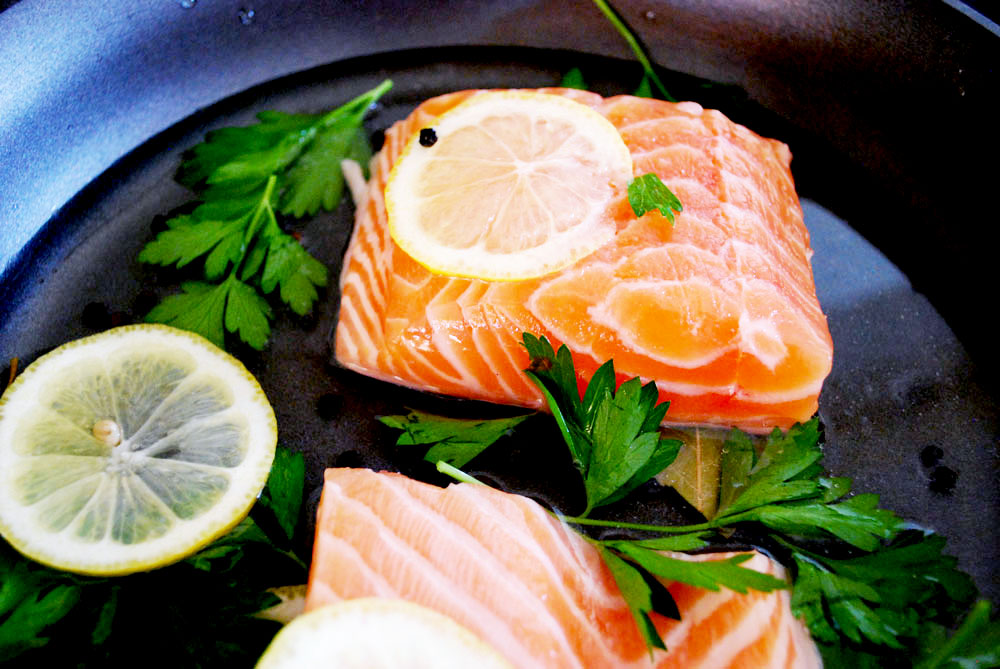 Sauces should be assertively flavored and served in small portions. This avocado-based aioli has plenty of punch to set off the mild flavor of the salmon, and the colors—pale green on pink—are really beautiful together. This aioli is also wonderful with raw or cooked vegetables or simple grilled shrimp.
Avocado-Tarragon Aioli
Makes ¾ cup 
Ingredients: 
1 soft-ripe Hass avocado, pitted and peeled
1 clove garlic, peeled
1 small shallot, peeled
½ teaspoon tarragon vinegar or white wine vinegar
1 tablespoon fresh lemon juice
½ teaspoon sea salt (optional)
1 tablespoon chopped fresh chives
2 sprigs fresh flat-leaf parsley, stemmed and chopped (about 2 teaspoons)
1 sprig fresh tarragon, stemmed and chopped (about 1 teaspoon)
Directions:
At least 3 hours before serving, puree the avocado with the garlic and shallot in the bowl of a food processor until perfectly smooth.
Scrape the puree into a small bowl and stir in the vinegar, lemon juice, and salt, if desired. Taste for seasoning; it should taste quite strong.
Stir in the chopped herbs, cover, and refrigerate until serving time.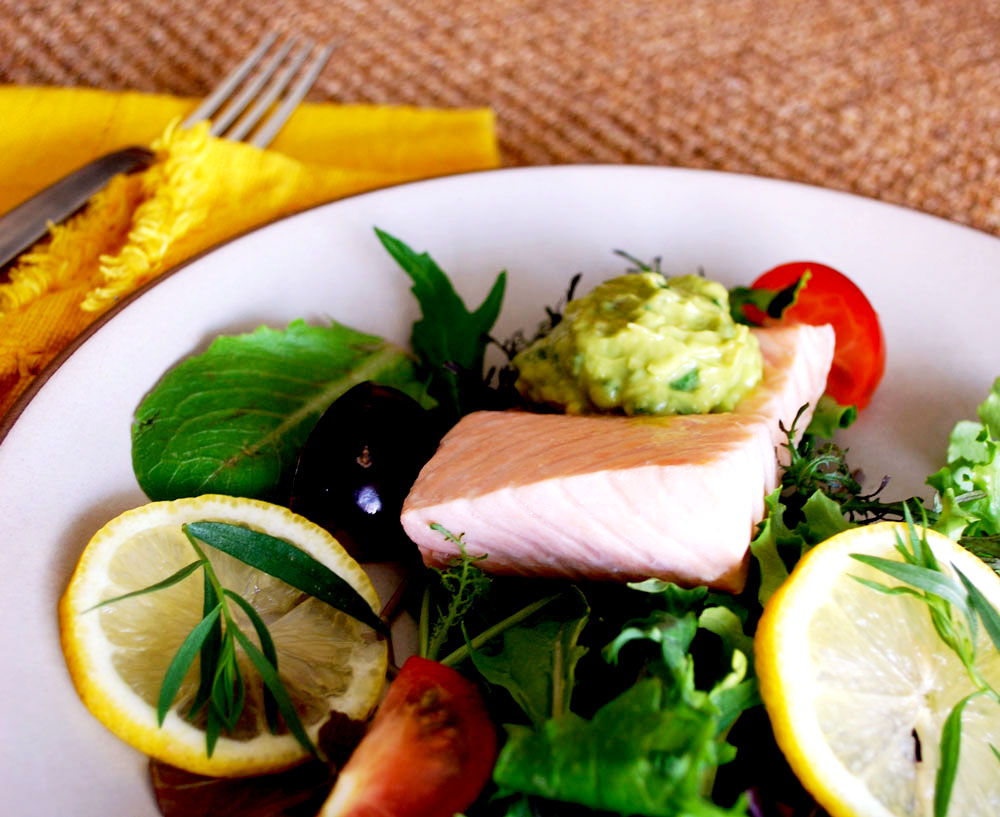 This is one of the Ranch's best dressings, full of fresh herbs from Tres Estrellas.  It is wonderful on salads, of course, but equally delicious as a sauce for grilled or roasted vegetables, cooked seafood or shrimp.
Basil Balsamic Dressing
Makes 1 ½ cups
Ingredients:
1 cup fresh tangerine or orange juice
3 tablespoons of balsamic vinegar
1 small shallot, peeled and minced (about 1 tablespoon)
1 clove garlic, peeled and minced (about 1 teaspoon)
1 tablespoon olive oil
¼ teaspoon fresh ground black pepper
¼ teaspoon sea salt, or more to taste
4 large leaves fresh basil, chopped (about 1 teaspoon)
6 springs fresh cilantro, stemmed and chopped (about 1 tablespoon)
1 teaspoon chopped fresh thyme leaves
Directions:
One hour before serving, whisk together all ingredients.  Taste and add salt, if needed.