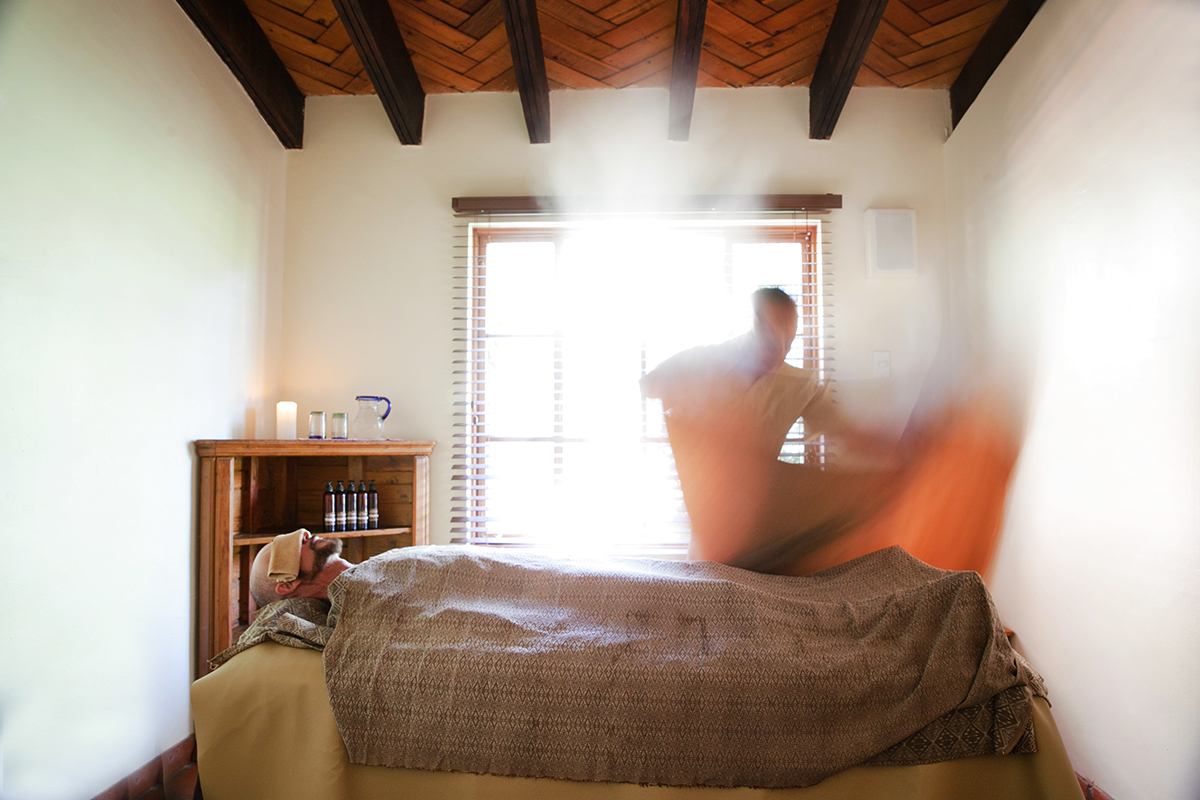 Sometimes known as a body cocoon, The Ranch's Remedy Wrap and Massage is a 90-minute treatment that left my skin hydrated, my body relaxed and my mind free of distracting thoughts. There are two parts to this warm and relaxing treatment; the wrap and a massage.
It starts with a massage table covered with steaming-hot thick sheets.  The aesthetician advised me to gently lower myself onto the table like a kid testing the climate of bath water and make sure the temperature was just right. Then he began to wrap me, slowly and methodically from my feet up.  I had an option to have my hands and arms wrapped or exposed and out, I chose to have them wrapped for full effect. The sheets, he told me, were infused with herbs and minerals to hydrate my skin.
Once fully wrapped but with my face exposed, the Therapist said, "this will be your favorite part," and placed a cool moist towel over my eyes. It felt amazing! When the Therapist was satisfied that I was comfortable, he left the room but he came back every few minutes to check on me. I thought I'd be too uncomfortable steaming like a bun for 30 minutes but it was very pleasant. It was nice to have that time for reflection and let the steam slowly melt away any stress I was carrying.
After about 15 minutes the Therapsit came back and checked on me. I was in a happy steamy daze and I'm not sure if he put another hot towel on me but I was comfortable and he left me again to my own thoughts and worry free relaxing.
The massage was in the room across the hall so, after 30 minutes of the detoxifying wrap, it was time to put back on my robe and move to the other room.
But first! He gave me a bowl full of cold orange wedges to eat during the transition. It was the most delicious orange I've eaten.  The flavor and coolness danced around my mouth and was refreshing.The juice was hydrating and sweet and gently woke me up before the massage. Which put me right back to deep relaxation mode and a slowly drifting into a light sleep.
Massaging his way up from my toes like joyfully squeezing a tube of toothpaste from the bottom to the top to get every last knot and ounce of stress, I felt the changes work their way up my body.
It's not just butterflies that emerge from cocoons, in this case, it was a full grown man, refreshed, hydrated and stress-free.
Learn more about our renewing spa offerings or see what wonderful other activities are waiting for you at Rancho La Puerta.