QUINOA SALAD WITH CURRANTS AND PISTACHIOS

Try red or tri-color quinoa for a colorful change of pace.
INGREDIENTS:
1-16 ounce box of quinoa, cooked and cooled
1 cup lime juice and zest from limes (approximately 8)
1 ounce finely chopped scallions
1 ounce finely chopped Italian parsley
1 ounce finely chopped mint
2 cups dried currants
8 ounces raw pistachios
1 cup of pomegranate arils
Preparation:
Prepare quinoa according to the directions on the package.  Place in large bowl and allow to cool.  Juice and zest limes.  Pour over quinoa.  Add remaining ingredients and mix well.  Chill.
Chef's Note: Add pomegranate seeds when in season. Try substituting orange juice and zest for the lime, or unsweetened cherries for the currants.
---
GOOD N' PLENTY FENNEL SALAD
INGREDIENTS:
2 bulbs of fennel
1 lemon (or more, to taste)  juice and zest
20 small Deglet Noor dates
Preparation:
Slice the fennel very thin into a bowl.  Keep the green top to decorate the salad. Slice the dates and mix them with the fennel.  Pour the lemon juice over this and mix it well.
Chef's Note: You can serve this cold or room temperature.
---
HAIL TO THE KALE SALAD
Even people who say they don't like kale will gobble this up.
INGREDIENTS:
Salad:
2 large heads of kale (about 24 ounces)
Chopped almonds
Dressing:
1 cup raw almond butter (unsweetened and unsalted)
1 cup coconut water (or regular water)
1/4 cup fresh lime juice (about 2) and zest
2 cloves garlic
Fresh, peeled ginger (approximately 1" or 1/2 of an ounce)
2 Tablespoons low sodium tamari
4 pitted dates (soaked in water if not soft)
1/2 teaspoon red pepper flakes
PREPARATION:
In a high-powered blender, combine all dressing ingredients and blend until smooth and creamy.  Remove the thick, larger stems from the kale.  Place the kale leaves in a large bowl.  Pour 2 cups of the dressing over the kale and, using an Ulu blade, massage the dressing into the kale while finely chopping the kale.  Sprinkle with seeds or nuts before serving, if desired.  Like a woman, this only gets better with age.  Refrigerate any unused dressing.
Chef's Note: This salad is also delicious when peanut butter, shredded raw beets and carrots are added.  If you have a dehydrator, dip kale leaves in the dressing and dehydrate for delicious kale chips!  If you are allergic to nuts, use tahini (sesame seed paste) or sunflower seed butter in place of the nut butter.
---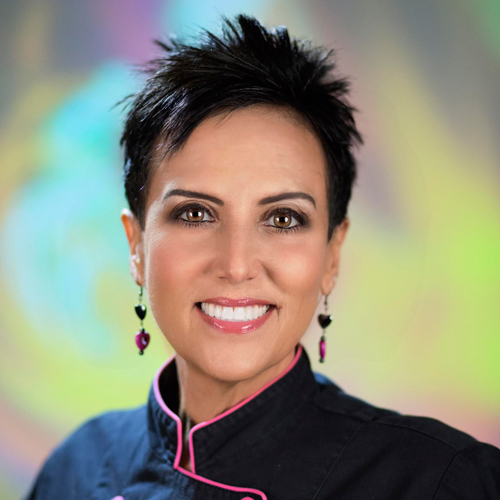 Chef AJ has been devoted to a plant-based diet for almost 40 years. She is the host of the television series Healthy Living with CHEF AJ which airs on Foody TV. With her comedy background, she has made appearances on The Tonight Show Starring Johnny Carson, The Tonight Show with Jay Leno, The Late Show with David Letterman and more. A chef, culinary instructor and professional speaker, she is author of the popular book Unprocessed: How to Achieve Vibrant Health and Your Ideal Weight, which chronicles her journey from a junk-food vegan faced with a diagnosis of pre-cancerous polyps, to learning how to create foods that nourish and heal the body Based in Los Angeles, Chef AJ teaches a monthly sold-out seminar featuring cooking instruction, nutritional science and song parodies, all delivered with comedic panache. Never content to leave her audience with mere "just do it" advice, she teaches how to create meals to transform their health, how to deal with cravings and food addiction and addresses the emotional side of eating. She is the creator of the Ultimate Weight Loss Program, which has helped hundreds of people achieve the health and the body that they deserve. Chef AJ was the Executive Pastry Chef at Sante Restaurant in Los Angeles where she was famous for her sugar, oil, salt and gluten free desserts which use the fruit, the whole fruit and nothing but the whole fruit. Chef AJ is also creator of Healthy Taste of LA and the YouTube cooking show The Chef and the Dietitian, and is proud to say that her IQ is higher than her cholesterol. Chef AJ holds a certificate in Plant-Based Nutrition from eCornell University and is a member of the American College of Lifestyle Medicine.