INFINITELY ADAPTABLE QUINOA SALAD
with Lemon, Roasted Kale & Feta Cheese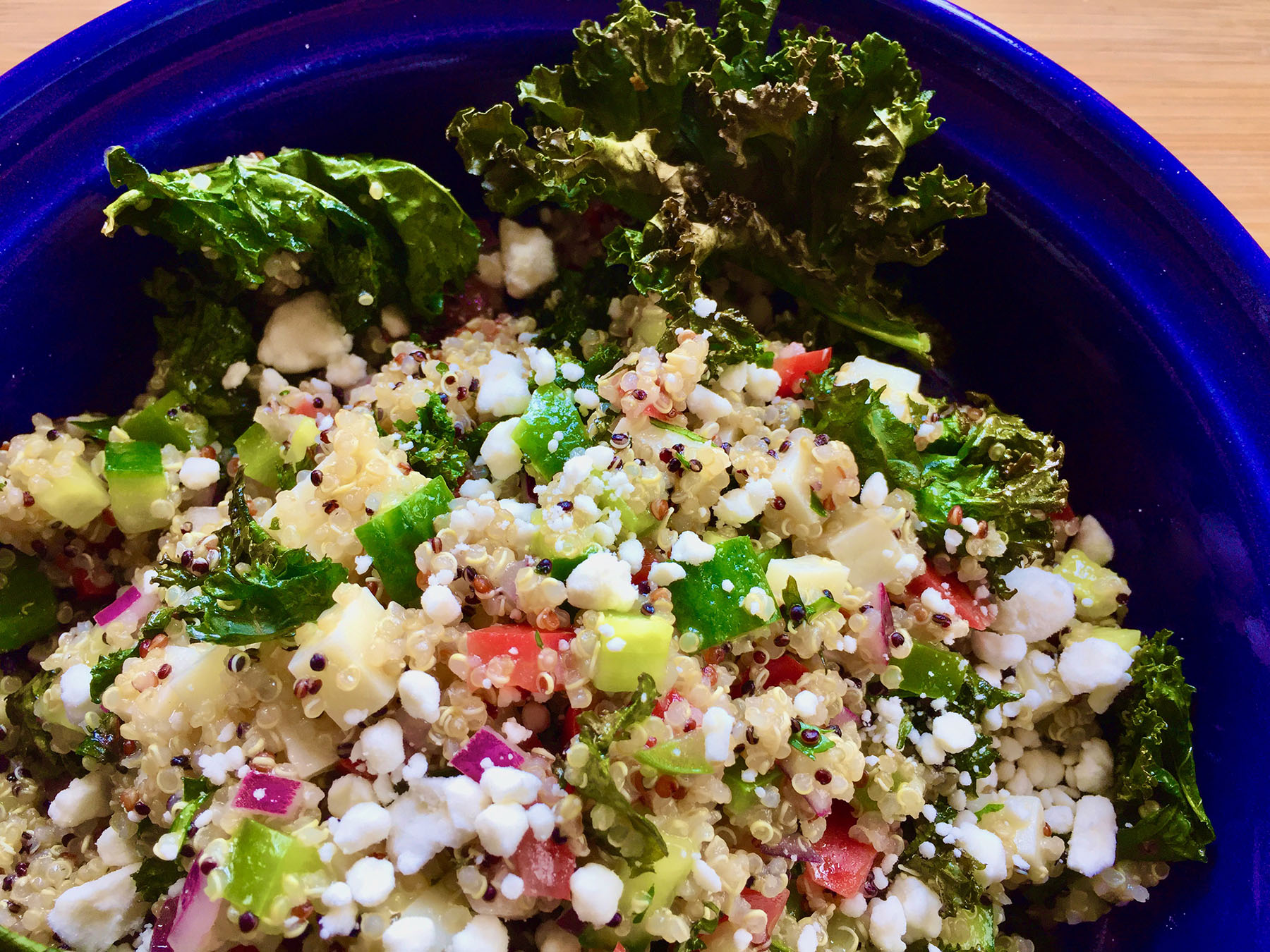 Serves 2 as entrée, 4-6 as side
If you have any small bits of Kale Chips left, add them to this salad! Combinations of seasonal veggies and cooked whole grains are the Ranch in a bowl, and also allow you to use up all the little 'bits' and ends in your veggie crisper.  Whatever you put in is up to you; think crunch, color and flavor. In keeping with the Ranch philosophy, get as much good fresh stuff in there as you can, and feel free to substitute other grains, vegetables, oils or dressings. Or go vegan with nuts, tofu or tempeh. Great as a side salad or as a substantial main course.
Quinoa
Double this recipe to add to your favorite oatmeal, bread or muffin recipe. Freezes well.

½ cup organic quinoa, tricolor or white, rinsed (makes 1 ¾ cups cooked)
1 ½  cups water
¼ teaspoon salt
Rinse the quinoa in a fine sieve. Place in a small saucepan. Add water and salt.
Bring to a boil, then turn down the heat and simmer for about 10 minutes, until the little white 'tails' pop out. Do not stir while cooking but swirl the pan occasionally to cook evenly.
When cooked (there may be a small amount of water left) turn off heat, cover and let stand 10 minutes. Drain any excess water and cool completely.
Salad
I ½ cups (total) bits and ends of diced vegetables: seeded diced tomato, diced cucumber, diced red or green bell pepper, diced celery, diced zucchini, chopped green or red cabbage, grated carrot
Optional: 2 tablespoons small diced red onion, rinsed under cold water (or chives or green onions)
¼ cup fresh squeezed lemon juice (or 3 tablespoons cider vinegar, or a combination)
2 tablespoons extra-virgin olive oil
3/4 tsp salt
Cooked quinoa
2 cups kale chips – broken bits and small pieces (recipe follows)
1/2 cup crumbled feta
Options and Variations
Instead of quina, use cooked and cooled brown rice, barley, couscous, wheat berries, bulghur or other grain, or a combination
Add cooked drained beans or lentils
Chopped herbs: 1 tablespoon cilantro, parsley, or basil
Toasted nuts: sliced almonds, pine nuts, pepitas, chopped walnuts or pecans
Substitute tofu or tempeh, seasoned with soy sauce and pan-seared , for the cheese
Substitute diced mozzarella or jack cheese for the cheese
Roasted vegetables (sweet potato, onion, leeks, broccoli)
Dry cranberries or raisins
---
KALE CHIPS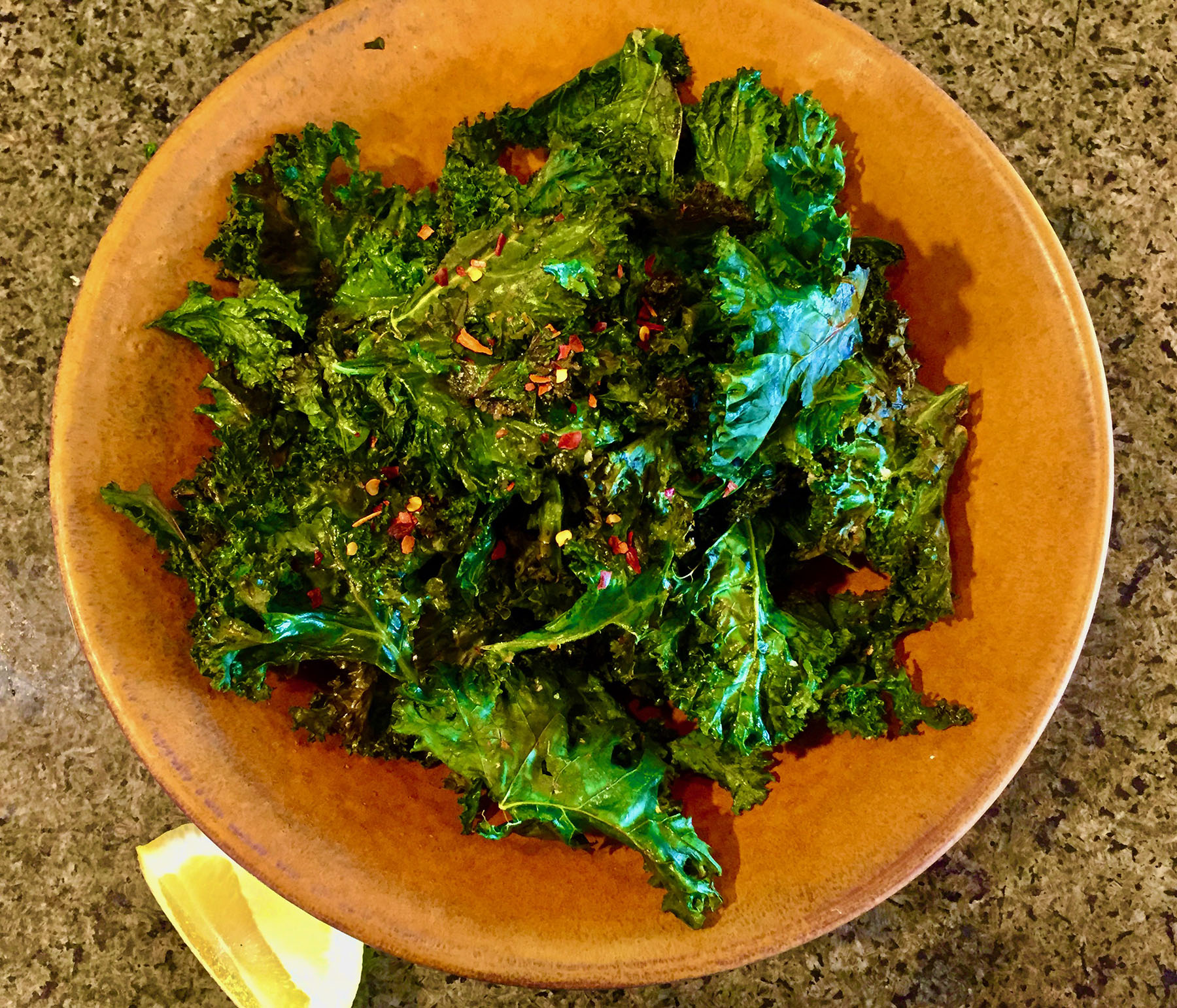 1 bunch curly kale
1 tablespoon olive oil
½ teaspoon kosher salt
2 tablespoons nutritional yeast
Preheat oven to 350 degrees. Strip the leaves from the stems and tear into large pieces. Wash and dry thoroughly, toss with the olive oil and salt. Spread in one layer on a rimmed baking sheet and bake, turning once, until starting to crisp around the edges, about 15 minutes.
Option:
Crisp the leaves, then sprinkle with I tablespoon lemon juice and 2 teaspoons crushed red chiles (½ teaspoon kosher
---
Sweet Potato Frittata with Leeks, Chard & Cauliflower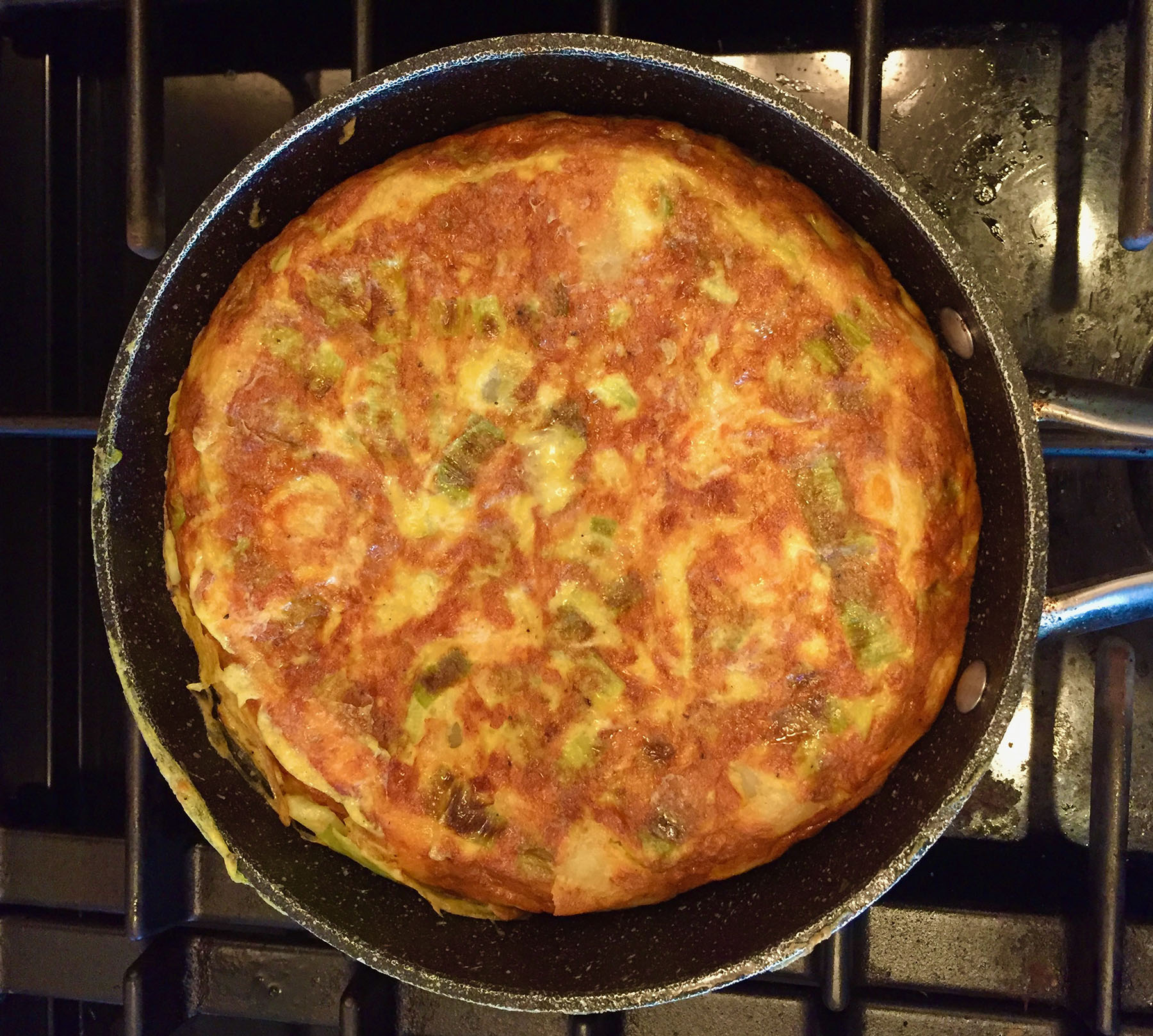 I've featured late winter vegetables from Tres Estrellas' garden here, but every season offers new ideas for a quick, simple frittata. This is suitable for breakfast – you can make it the day before – or brunch, lunch or dinner, or a quick, high-energy snack anytime. It's equally good cold or at room temperature. I'll serve this for breakfast with spicy sriracha sauce, or later in the day with the easy, healthy Salsa Verde (parsley is full of iron!) given here.
Any vegetables you have on hand can be substituted for what's suggested: cooked broccoli or broccoli rabe, spinach, green cabbage, kohlrabi, carrot or zucchini, red bell peppers. A handful of lemony sorrel or arugula, or any available green, may be used instead of chard. Your options are endlessly delicious.  Serves 4.
1 leek, white part only, sliced crosswise into quarter-inch slices (about 1 ¼ cup)
2 chard leaves, stemmed and shredded (about ¾ cup)
½ small orange sweet potato, peeled and cut into one-inch cubes (about 1 cup)
1 ½ cups cauliflower, broken into one-inch florets, or peeled and cubed kohlrabi
Optional: 2 tablespoons shredded basil or other large-leafed herb (parsley, cilantro)
2 tablespoons olive oil (divided use)
3/4 teaspoon salt
1 teaspoon fresh-ground black pepper
6 large Eggs, beaten
Sriracha Sauce or Salsa Verde (recipe follows)
Preheat oven to 350 degrees.
Half-fill a 2-quart saucepan with water, add 1 teaspoon of salt and bring to a rapid boil.
Add leeks and chard and cook 3 minutes, then scoop out with a slotted spoon and drain very well.
Cook the cauliflower and sweet potato in the same water until barely tender (about 5 minutes) then drain very well.
In a bowl, toss together the cooked vegetables, basil, 1 tablespoon olive oil, salt and pepper.
Add beaten eggs and stir gently.
Heat the remaining tablespoon of olive in a deep 8-inch frypan with gently sloping sides, until the oil is hot. Pour in the egg mixture, turn heat to medium and cook without stirring until the sides are set and golden brown (you can slide a spatula down the side to check.)
Place frittata in the oven and cook 10 minutes, until almost set. At this point you can continue cooking another 10 minutes, until cooked through, or flip the frittata, as follows:
Remove from oven. Place a plate upside down over the frittata and hold with your left hand. With your right hand, hold the pan handle with a thick oven mitt or dry towel (it is hot!). Then carefully invert the pan and plate. Slide the frittata, golden side up, back into the pan and cook another 8-10 minutes, until firm.
Cool a few minutes before slicing. This is delicious at room temperature or even cold.
Options
Leftover roasted vegetables make a great frittata. No leeks? Saute half an onion, diced, until well-caramelized, or stir sliced green onions into the final mix Cheese: A small amount of blue or Swiss is a great addition
Sauces: Fresh tomato sauce, any Mexican salsa
Salsa Verde
This chunky salsa is excellent on just about everything — any kind of grilled or roasted fish or vegetables, or stirred into a soup, plain cooked rice or pasta. It's even good on pizza!
3 tablespoons good olive oil
½ teaspoon kosher salt (or to taste)
¼ teaspoon crushed red chiles
1/8 teaspoon oregano, rubbed to a power
3 tablespoons chopped mixed herbs (parsley, basil, cilantro)- in any proportion
1 tablespoon finely minced red or green onion
1 teaspoon white vinegar
Optional: 1 tablespoon finely minced red bell pepper
Optional: 1 tablespoon capers or black olives, chopped
---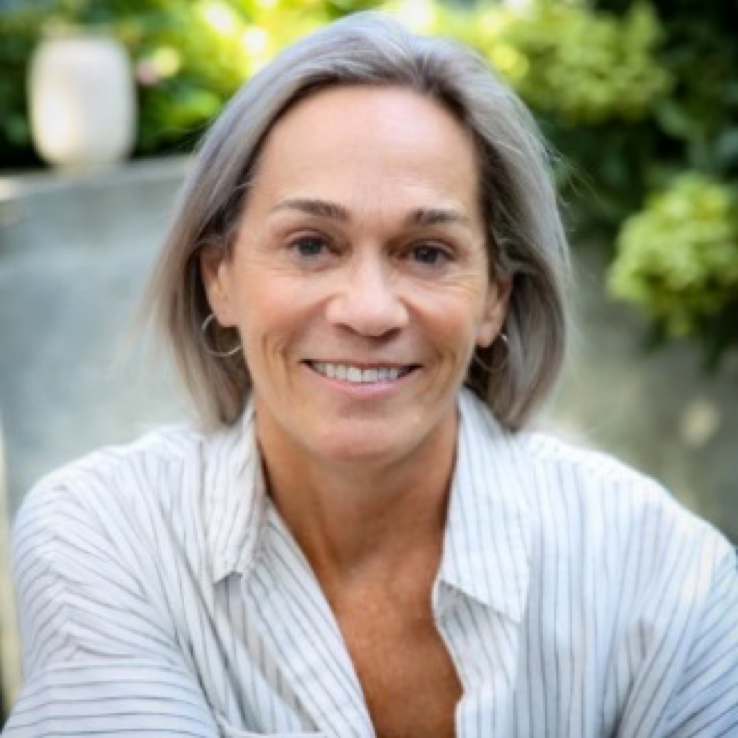 Deborah Schneider is Executive Chef & Partner of the award -winning SOL Mexican Cocina and Solita Tacos & Margaritas restaurants, currently with six locations in California, Arizona and Colorado, which focus on the best in contemporary and traditional Mexican cuisine. Deborah is co-author, with Deborah Szekely of Cooking with the Seasons at Rancho La Puerta, for which she was nominated for a James Beard Award.  She has travelled widely in Mexico, and is the author of eight cookbooks that explore her fascination with Mexican food and culture. Her most recent book is Mexican Instant Pot (November 2018). Her other books include Baja! Cooking on the Edge (an adventurous trip through the foods and wines of Baja California, chosen by Food & Wine Magazine as one of the best cookbooks of the year) Salsas & Moles, The Mexican Slow Cooker, and Amor y Tacos. She is co-author of Williams Sonoma Essentials of Latin Cooking and Rustic Mexican.  Through her restaurant work and writings, Deborah has been influential in the Southern California farm-to-table movement and in supporting sustainable fisheries in California and Baja. She has mentored many young chefs and supports community groups and culinary fund-raising efforts. She received her CEC ranking (Certified Executive Chef) in 2001 from the American Culinary Federation, recognizing over 20 years of professional cooking and other accomplishments. For more information, visit www.solcocina.com    www.solitatacos.com