Fennel, Leek, and Potato Soup
This warm take on vichyssoise makes a fine vegetarian starter.
Yield: 7 servings (serving size: 1 cup)
Ingredients
1  tablespoon  butter or olive oil 

2  cups  chopped fennel bulb 

2  cups  thinly sliced leek (about 2 large)

1 cubed peeled baking potato

⅓ cup raw cashews

1 1/4  cups  water

1/2  teaspoon  salt

1/4  teaspoon  fennel seeds

1/8  teaspoon  black pepper

2  (14 1/2-ounce) cans fat-free, less-sodium chicken broth or vegetarian

Fennel fronds (optional)
Preparation
Melt the butter in a Dutch oven over medium-high heat. Add fennel bulb and leek; sauté 4 minutes. Add potato, cashews, water, salt, fennel seeds, pepper, and broth, and bring to a boil. Cover, reduce heat, and simmer 20 minutes or until potato is tender. Place half of the soup in a blender; process until smooth. Pour pureed soup into a bowl. Repeat procedure with remaining soup. Return pureed soup to pan; simmer 5 minutes or until slightly thick. Garnish with fennel fronds, if desired.
---
Miso-Glazed Tofu with Braised Swiss Chard
GF  |  Vegan  |  Serves 4
14 to 16 ounces firm tofu (not silken)

3 table spoons white miso

1/3 cup Mirin

1 zest and juice of an orange

½ inch ginger, chopped

½ tsp seasame oil

1-2 tablespoons low-sodium vegetable broth

2 medium bunches mustard greens, washed, stemmed, and coarsely chopped

3 cloves garlic, minced

Salt, to taste
Cut tofu crosswise into 8 slices.   Let stand for 5 min to extract excess liquid.  
In a small bowl, combine white miso and mirin and whisk until smooth.  Set aside.
To a large saucepan over medium heat, add a small amount of low-sodium vegetable broth, swiss chard, and half garlic.  Cook, partially covered, until chard is tender, 10 to 12 minutes.  Drain greens and keep broth. Add salt, to taste.
In a large nonstick skillet over medium-high heat, simmer tofu in small amount of low-sodium vegetable broth, add ginger, other half garlic, zest and orange juice for about 4-6 minutes until broth reduces.
Divide greens between 4 plates and top each serving with 2 slices of tofu.  In same skillet over medium-low heat, warm miso mixture for about 30 seconds, then drizzle over tofu and greens. 
---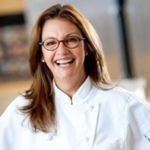 Palma Bellinghieri is a second generation culinary artist and chef. Born in Mexico City, she is a graduate of the Pierrefeux Institute and Glion Hotel Management School in Montreaux Switzerland. A founding member of the Mind/Body Health Initiative, Palma specializes in converting nutritional guidelines into a delicious lifestyle of eating to improve health and longevity, as well as reversing chronic and degenerative conditions.
Daughter of world-renown Sicilian chef and restaurateur, Alfredo Bellinghieri  ("Alfredos" and "La Trucha Vagabunda" restaurants in the Zona Rosa), Palma fuses generations of family and Bellinghieri-restaurant recipes and upbringing into nutritious and delicious foods.
For the past 15 years, Palma has specialized in vegetarian cooking, and her hands-on workshops and parties celebrate delicious and healthy eating, in addition to an in-depth understanding of products in the marketplace, with an eye to shopping for novel products and best values. The results are passionate dishes and tantalizing flavors, with warm and knowledgeable hospitality that makes for an unforgettable educational and culinary experience.
In addition to her varied culinary activities, Palma is the Demonstration Chef at the Vegetarian Cooking School of the Scripps Center for Integrative Medicine. At the Center, she teaches food preparation skills, delicious international recipes and healthy eating to adults and general public; assuring us that thoughtful choices can be made, leading to prevention and reversal of many chronic conditions including cardiovascular disease, chronic pain and fatigue, allergies, obesity, and diabetes.
Across the curriculum, her teaching demonstrates how to choose health-promoting ingredients, avoid common harmful food additives, and how to become a sophisticated consumer. Techniques are presented in order to make healthful choices, create quick, easy, delicious and healthy meals, including how to store and prepare foods in advance. Additionally, the programs teach how to substitute unhealthy ingredients and products with healthy alternatives we may not be familiar with, so that every meal becomes both enjoyable and healthy!
Chef Palma has being invited to be the demonstration Chef for Scripps Health and their outreach program throughout the year.
To further promote healthy eating and lifestyles in the family, Palma conducts at-home programs teaching how to buy, prepare and store foods, as well as catering delicious healthy food for special events and parties. During the summer months, she also directs and teaches the popular camp series "For Young Chef's," teaching healthy eating, food preparation and cooking to kids 9 to 15.
We invite you and your friends to discover and enrich yourself with the knowledge of a wide variety of flavors that can become part of your lifestyle for many years to come!
I look forward seeing you in the kitchen!