Menu
Lentil Pate with Endive, Radicchio, Celery, crackers
Saucy Glazed Grilled Tofu
Cabbage Avocado Slaw
Garlicy Greens
Bittersweet Chocolate Truffles
---
Pate with Seasonal Crudite
This dish tastes incredibly like my grandma's liver pate, but this one is plant based and even better, there is no fat added. It's quick and easy and superfast if you have leftover lentils, rice, and toasted walnuts on hand.
Serve with crudité such as celery, endive, radicchio, carrot slices, and some crackers if you like.
Refrigerate in a covered container for several days. The pate can be frozen.
Makes 1 1/2 cups pate 4 to 6 servings
Ingredients
1/2 cup cooked lentils
1/2 cup, 1 medium carrot, shredded
1/2 cup chopped onion
1/2 cup walnuts
6 tbsp cooked brown rice
1 3/4 tsp red miso (any miso is fine)
1/2 teaspoons tamari or soy sauce, more to taste
1/4 teaspoon freshly ground black pepper, more to taste
Lightly toast the walnuts in a dry skillet, shaking often so they don't burn.
Grind the walnuts in the food processor to a chunky paste, but do not make nut butter.
Add the shredded carrot, onions, brown rice and lentils, the miso, tamari and pepper to the processor. Pulse a few times and then process to a smooth pate, about 1 minute.
Serving: Spoon the pate into a lettuce-lined serving bowl, garnish with thinly sliced chives and if you have them, use some edible flowers.
---
 Cabbage Avocado Slaw
Cabbage is an unsung hero of the vegetable kingdom.  Use to make slaws and salads, Indian-inspired curries and fermented foods like sauerkraut and kimchi. Low in calories, cabbage is a good source of many vitamins and minerals, iron and calcium. Use this recipe as a template—add more or less onion, herbs, and season to taste. You could use poppy seeds, sesame seeds or even finely chopped nuts in place of the chia.
Makes 4 cups, 4 to 6 servings
Ingredients
4 cups finely shredded green or purple cabbage, or use or a mix
2 tablespoons apple cider vinegar, more to taste
1/2 teaspoon sea salt, more to taste
1 teaspoon maple or agave syrup
1 avocado, pit removed, more for garnish if desired
1 teaspoon celery seeds
A bunch of chives sliced or 1 – 2 green onions, thinly sliced
1/4 cup finely minced cilantro
1 to 2 tablespoons chia seeds
Preparation
In a medium bowl, combine the cabbage and vinegar.
Massage the cabbage with your hands for a few minutes until it is a bit tenderized.
Add the avocado in chunks, and massage another minute or two, until the avocado is creamed into the mix.
Mix in the celery seeds, green onions, cilantro, and chia seeds.
Taste and adjust flavors, add more salt, vinegar, and herbs.
---
Glazed Bake-Ahead Tofu
I don't press tofu. Simply baking sliced tofu in a hot oven until it has dried a bit and taken some color is all that is needed. The tofu can be prepared to this point and refrigerated in a covered container for up to 3 days. Later, add any sauce or smear with mustard and sauerkraut or slaw and make a sandwich. Here, the prebaked tofu is glazed in a quickly mixed sauce. Then grill or or cook further ein a very hot oven. Serve with slaw and garlicky greens.
Makes 4 servings
Ingredients: Tofu and Glaze
1 pound extra firm or firm tofu
2 cups unsweetened apple juice; cider works
¼ cup Dijon mustard
¼ cup tamari or soy sauce
2 tablespoons extra virgin olive oil
2 1/2 tablespoons apple cider vinegar
freshly ground pepper
Preparation
Preheat oven to 400°F. Line a baking sheet with parchment paper.
Pat the tofu dry and stand it upright on a cutting board. Cut straight down the middle. Stack the pieces and cut into 4 triangles. You can cut each triangle horizontally to make 8 in total. Arrange the slices on the baking sheet in one layer and bake 10 minutes. Remove from the oven, turn the slices over, and bake another 8 to 10 minutes or until lightly colored. The tofu can be prepared to this point and refrigerated in a covered container for up to 3 days.
Make the glaze while the tofu is baking:
In a 1-quart pot combine, the apple juice, mustard, tamari, oil, vinegar, and pepper. Cook, whisking a few times over medium heat to a boil. Reduce the heat and simmer 5 minutes.
Heat a heavy pan over high heat; cast iron is great. Pour the marinade into the pan and reduce the heat to medium. Add the tofu in one layer and cook, turning the pieces a few times, until the marinade has thickened and reduced by half.
The tofu can be served now or grilled.
To grill: Heat a lightly oiled outdoor grill or grill pan. Transfer the slabs of glazed tofu to the grill, and grill over high heat for 3 to 4 minutes on each side, or until grill marks show.
Serve with additional sauce, slaw and garlicky greens.
---
Garlicky Greens
Greens are good for you and prepared this way, they are irresistible.
Add any dried fruit, sliced chives or green onions, sautéed onion, julienne sundried tomatoes, or sprinkle with toasted seeds or nuts before serving.
Use Swiss chard, kale, collard, a mix is great.
Variation: These greens are delicious mixed with cooked beans.
Makes 4 to 6 servings
Ingredients
1 good size bunch of greens (about a pound more or less)
1 to 2 tablespoons extra virgin olive oil
3 to 4 cloves garlic, peeled and crushed
Juice of one lemon or apple cider or balsamic vinegar, to taste
salt and freshly ground pepper to taste
Preparation
Cut leaves from the steams or strip off, if that's an option. If the stems are thin, slice them 1/4 inch thick. (Otherwise, save them to juice.) Stack a few leaves at a time, roll tightly and slice thinly to make ribbons. Chop to shorten the ribbons of the longer leaves.
Warm a deep-sided skillet over medium heat. Add the oil and swirl the pan. Reduce the heat; add the garlic, and sauté 1- 2 minutes, until golden. Don't allow the garlic to burn.
Add the greens, in batches if necessary, and cook over medium heat until just tender. The amount of time depends on the type of greens. Tender greens like chard and lacinato kale take about 5 minutes, heartier greens longer.
When the greens are tender, toss with the lemon juice or vinegar, adding a little at a time and tasting. Season with salt and pepper to taste.
---
Bittersweet Chocolate Truffles
Classic chocolate truffles are sinfully indulgent, melt-in-your-mouth, bite-sized confections made from ganache (an emulsion of chocolate and heavy cream). Truffles sometimes include butter, as well as spices, coffee or tea, liqueurs, nuts, and even fruit purées for flavor. Vegan truffles, also based on ganache, are just as luxurious, velvety smooth, and indulgent—but not sinful. A variety of nondairy milks replace the heavy cream and no butter is added. And here is the best part: After making and tasting hundreds of truffles made with nondairy milks, I am convinced they taste more intensely chocolaty than their heavy cream–based cousins. And dark chocolate contains lots of antioxidants so go ahead and indulge.
Halve the recipe or double it, depending on your needs but remember that these truffles store in the freezer for up to 2 months.
Makes about 30 (1-inch/ 2.5-cm) Truffles
Ingredients
8 ounces / 227 grams dark chocolate 70 to 72%, finely chopped
3/4 cup plus 2 tablespoons / 210 ml unsweetened plant milk- any other than rice milk
1/8 teaspoon fine sea salt
1 teaspoon / 5 ml pure vanilla extract
2 teaspoons / 10 ml mild tasting extra-virgin olive oil or refined coconut or another neutral oil
A few pinches of flaked sea salt for coating and serving (optional)
Coating: Dutch-process cocoa powder, finely chopped nuts, toasted coconut, sesame or hemp seeds
Preparation
Add the chocolate to a heatproof bowl and set aside while you heat the milk.
Pour the milk with the pinch of salt into a small saucepan. Cook over medium heat, whisking a few times, to a low boil.
As soon as the milk stops boiling, pour over the chocolate all at once. Rotate the bowl so the chocolate is completely submerged. Cover the bowl with a plate and let stand undisturbed for 2 minutes.
Add the vanilla and oil and whisk from the center out only until smooth and glossy.
Keep the bowl of ganache at room temperature while you test the final consistency. A properly made truffle ganache is firm enough to scoop and shape but still tastes creamy. Dip a teaspoon into the ganache, set the coated spoon on a small plate, and refrigerate for 10 to 15 minutes. After chilling, the ganache on the spoon should be smooth and firm but still taste creamy. It is unlikely, but if the glaze is too firm, add a tablespoon of room temperature milk and repeat the test. Add a second tablespoon if needed.
Cool the ganache in a shallow dish at room temperature for 30 minutes. (The ganache sets up fastest and most evenly in a 9-inch / 23-cm glass pie pan or similar dish.) Refrigerate uncovered until the surface is no longer soft, then place a piece of parchment paper or plastic wrap directly onto the surface of the ganache, covering it completely, and refrigerate for at least 3 hours or until very firm. The ganache can be refrigerated at this point for up to 1 week in an airtight container.
Make the Truffle Centers
Line a shallow container with parchment. Remove the ganache from the refrigerator. Use a spoon to scoop out 1-inch / 2.5-cm pieces of ganache and another to push the ganache off the spoon into the container. (If you prefer more uniform truffles, use a 1⁄2-tablespoon scoop.) When a half dozen or so are made, roll and press the pieces into irregularly shaped rounds. Repeat until all the ganache has been used, washing and drying your hands as needed. (If at any time the ganache becomes too soft to shape, refrigerate until cold and proceed.) Cover and refrigerate the truffle centers in layers separated by parchment paper for 15 to 25 minutes before finishing with the coating.
Recipe adapted from Vegan Chocolate: Unapologetically Luscious and Decadent Dairy Free Desserts by Fran Costigan
---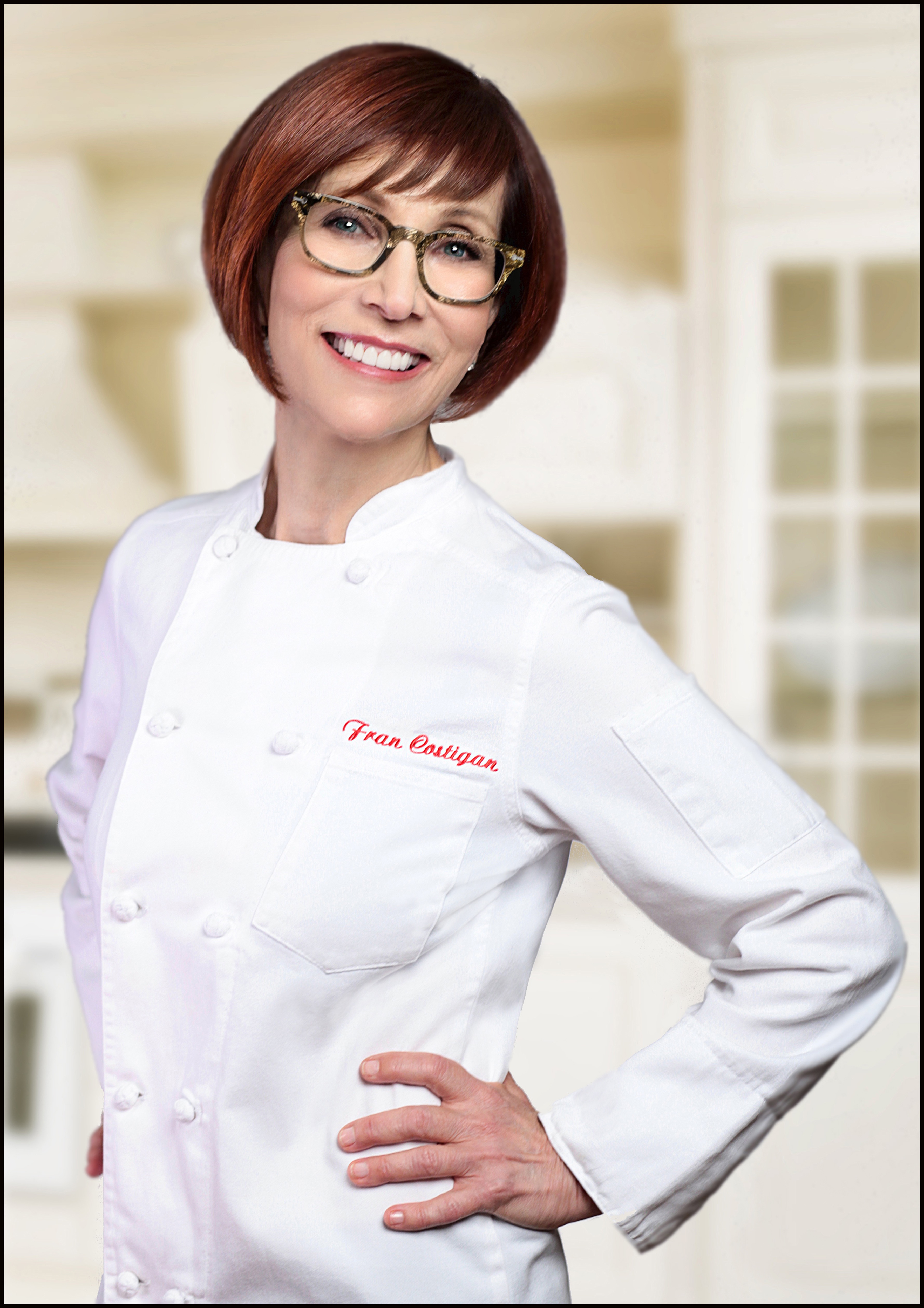 Fran Costigan, culinary instructor, cookbook author, pastry chef, consultant, and the director of Vegan Pastry at Rouxbe cooking school, is internationally renowned as the authority on vegan desserts. Professionally trained, Fran was a chef in both traditional and vegan pastry kitchens before moving into teaching over 25 years ago. Her unapologetically luscious confections lack nothing — except dairy, eggs, white sugar, and cholesterol. Fran's vegan desserts are appropriate for everyone who loves dessert, whether or not dietary restrictions are an issue. She developed and leads the 90-day Essential Vegan Desserts Course at Rouxbe, the world's leading online cooking school, where she mentors international students of all skill levels, from beginners to professionals
Fran's cookbook, Vegan Chocolate Dessert: Unapologetically Luscious and Decadent Dairy-Free Desserts, is available in German, French and Italian editions, and follows the classic, More Great Good Dairy Free Desserts.
A native New Yorker, Fran moved to Philadelphia, PA recently, and is enthusiastically visiting Philly's many renowned plant-forward restaurants. A sought after speaker, you can find Fran sharing her passion across North America and Europe, at schools, conferences, festivals, and corporations such as Google, at resorts, spas and on cruise ships too.
A professional member of the International Association of Culinary Professionals, Women Chefs and Restaurateurs, Les Dames d'Escoffier, and the Association of Food Journalists, Fran is a proud to serve on the advisory boards of the New York Coalition for Healthy School Foods, Main Street Vegan Academy, and the Vegan Trade Council.
For more information, visit                 http://www.francostigan.com
Fran Costigan                                      Linkedin
Fran Costigan Vegan Pastry Chef       Facebook
@goodcakesfran                                 Twitter, Instagram, Pinterest