Easy Orange Marmalade Bars
A twist on the apricot bars I used to make at my Sausalito café, these are a deliciously simple treat. Soft, chewy, and satisfyingly oaty, with a bright tickle of citrus, enjoy them for breakfast, a snack, or a casual dessert.
Don't like marmalade or don't have it on hand? Just substitute whatever kind of fruit preserves you like.
Makes 16 to 20
2 3/4 cups all-purpose flour
1 3/4 cups packed brown sugar
1 3/4 teaspoons baking powder
1 1/4 teaspoons coarse kosher salt
1 1/4 cup (2 1/2 sticks) unsalted butter, cut into 1/2-inch pieces
2 3/4 cups rolled oats
2 cups orange marmalade
Preheat the oven to 375°F. Thoroughly coat a 9×13-inch baking pan with cooking spray and set aside.
In the bowl of a food processor, combine the flour, sugar, baking powder, and salt, pulsing to combine. Add the butter and pulse until the mixture resembles a coarse meal. Transfer the mixture to a large bowl and stir in the oats.
Transfer about 2/3 of the oat mixture to the prepared pan and use a large spatula or your fingers to firmly press it into a smooth, even layer. Spread the marmalade on top, then add the remaining oat mixture, pressing it down lightly. Bake about 35 minutes, or until lightly browned. Set aside to cool thoroughly before cutting into squares and serving.
---
Baked Chèvre with Herbes de Provence Breadcrumbs
Adapted from the Pinot Grigio chapter of "100 Perfect Pairings: Small Plates to Enjoy with Wines You Love" by Jill Silverman Hough (Wiley, 2010)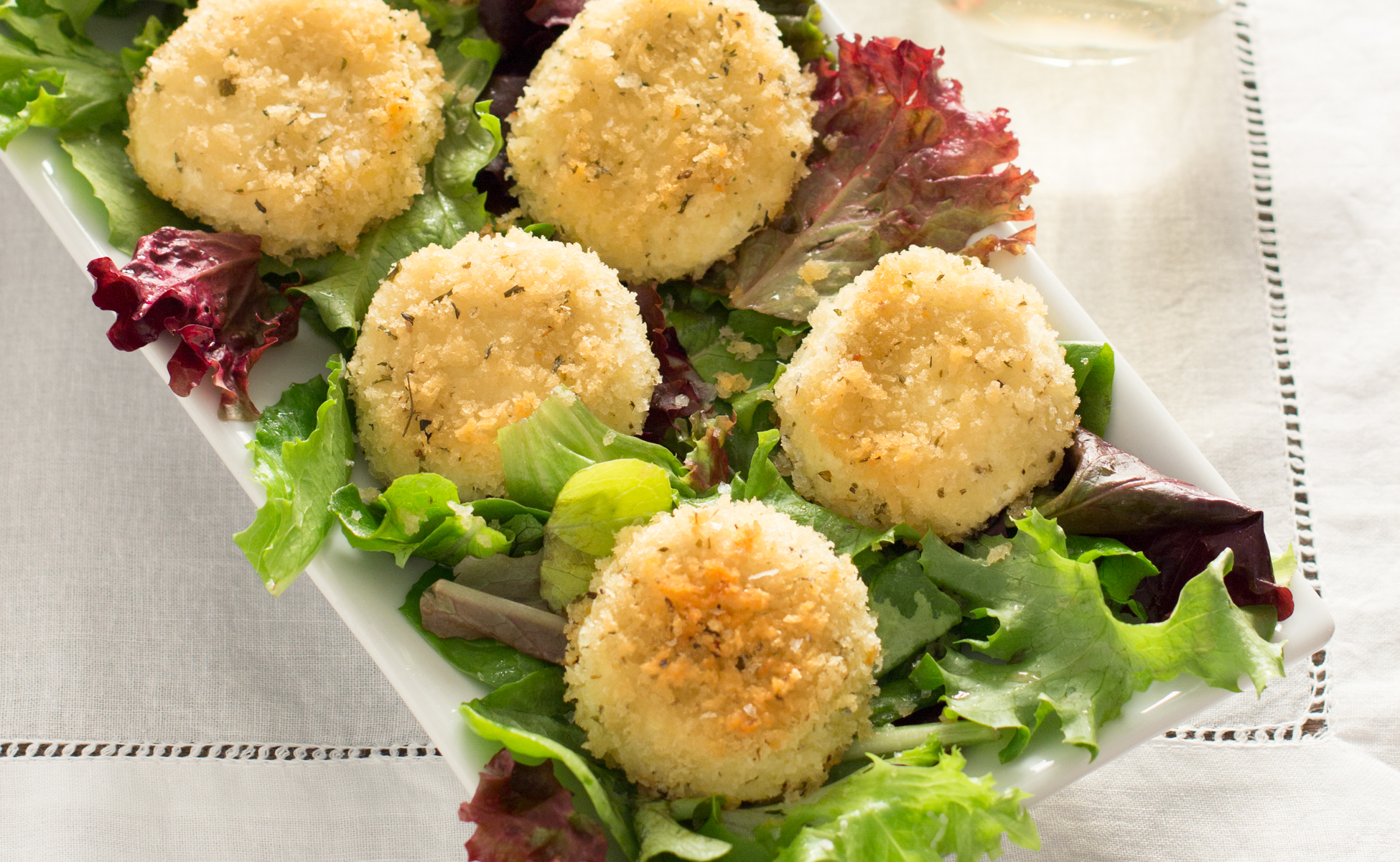 Light, springy, and fresh, this recipe would make a nice first course or light lunch, with toasted baguette slices alongside. Note that you need to start preparing it at least an hour in advance of serving—the breaded disks of cheese need time to freeze before baking so they'll hold their shape in the oven.
Serves 4
1 tablespoon sherry vinegar
3/4 cup extra virgin olive oil, divided
Salt and pepper to taste
1 cup panko (Japanese-style bread crumbs)
1 teaspoon herbes de Provence
12 ounces chèvre (spreadable goat cheese)
6 cups loosely packed mixed salad greens (about 3 ounces)
In a small bowl, whisk together the vinegar and 3 tablespoons of the oil. Add salt and pepper to taste and set aside. (You can prepare the dressing up to 3 days in advance, storing it covered in the refrigerator. Return to room temperature before serving.)
In a small, shallow bowl, combine the panko, herbes de Provence, and 1 tablespoon of the remaining oil. Place the remaining 1/2 cup of olive oil in another small bowl.
Shape the goat cheese into eight 1-inch-thick disks (if you bought a log of goat cheese, you can just cut it into eight 1-inch slices). Working one disk at a time, dip both sides into the olive oil and then into the panko mixture, pressing gently on both sides and all edges so the crumbs adhere. Arrange the coated disks on a rimmed baking sheet. Repeat with the remaining disks. Place the baking sheet in the freezer for at least an hour. (You can freeze the cheese, covered, for up to 2 days.)
Preheat the oven to 400°F.
Transfer the baking sheet to the oven and bake until the panko is lightly golden, about 15 minutes.
Meanwhile, in a large bowl, combine the greens and the dressing. Arrange the greens on a platter or on individual plates, dividing them evenly.
Carefully arrange the baked cheese over the greens and serve.
---
Dill-Poached Salmon with Herbed Yogurt Sauce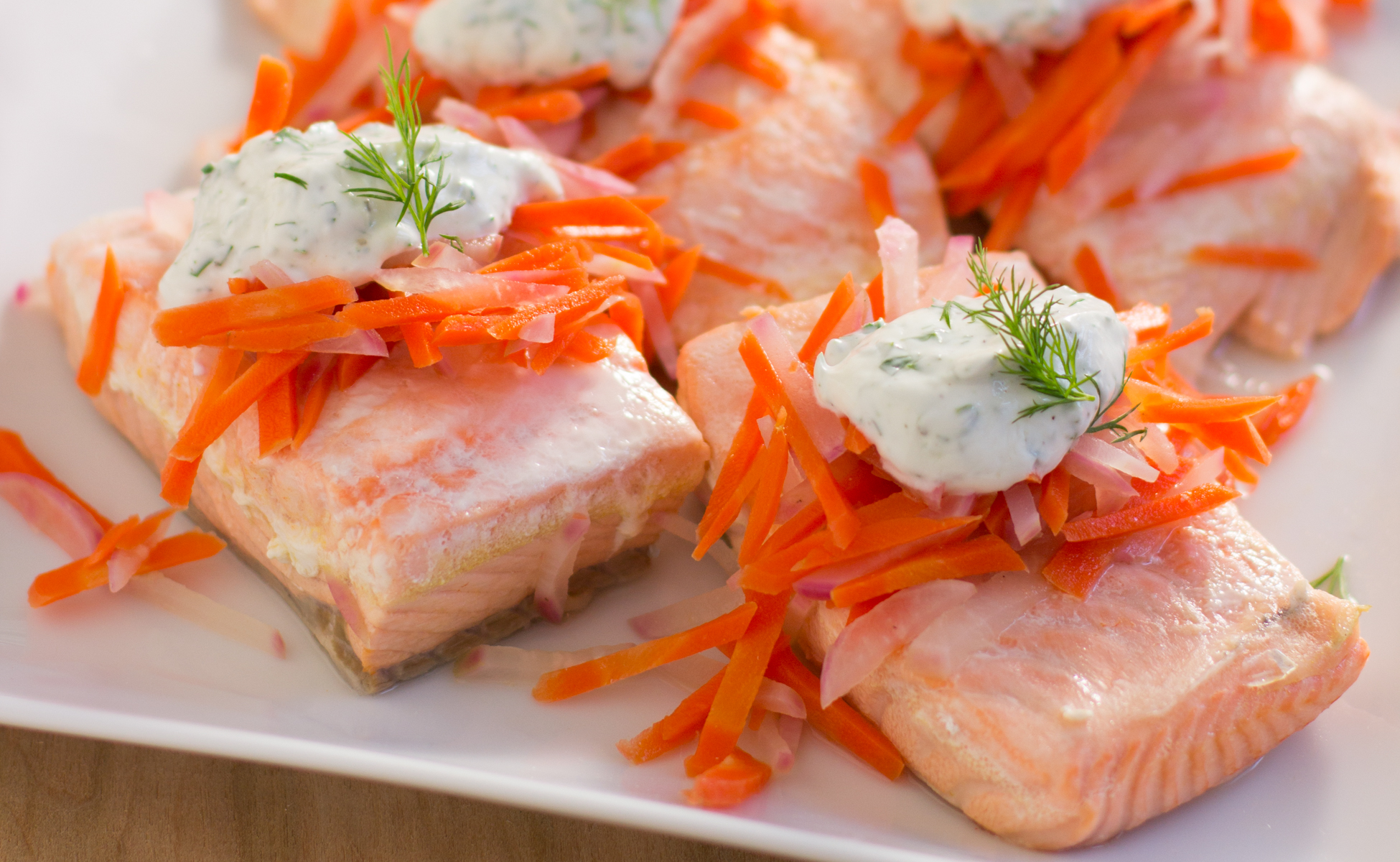 What with grilling and roasting and pan-searing, it's easy to forget one of the best, most classic ways to enjoy salmon—poached. Delicate poaching lets the rich, clean flavors of a great piece of salmon shine. And because it's a wet cooking method, poaching helps ensure your fish cooks up juicy and tender.
And, you can't go wrong with salmon and dill. The hearty fish is a perfect foil for the delicate, vernal herb.
Serves 4
4 large sprigs plus 1 tablespoon chopped fresh dill, divided
1 cup vegetable broth
4 salmon fillets, about 3/4-in thick
3/4 cup Greek-style plain yogurt
1 tablespoon chopped fresh flat-leaf parsley
2 teaspoons lemon juice
Salt and pepper to taste
1 small carrot, cut into matchsticks
4 radishes, cut into matchsticks
Using kitchen twine, tie the dill sprigs together. In a large skillet over medium heat, bring the dill sprigs, vegetable broth, and 1 cup of water to a gentle simmer. Add the salmon and adjust the heat to maintain barely a simmer. Cover and cook for 5 minutes.
Meanwhile, in a small bowl, combine the chopped dill, yogurt, parsley, lemon juice, and salt and pepper to taste. Set aside.
Add the carrots and radishes to the skillet, nestling them into the liquid. Cover and cook 3 minutes, or until the vegetables are tender and the salmon is barely cooked through.
Use a slotted spatula to arrange the salmon on plates or a platter, then to top with the vegetables and yogurt sauce. Serve any remaining sauce on the side.
---
Cumin-Roasted Potatoes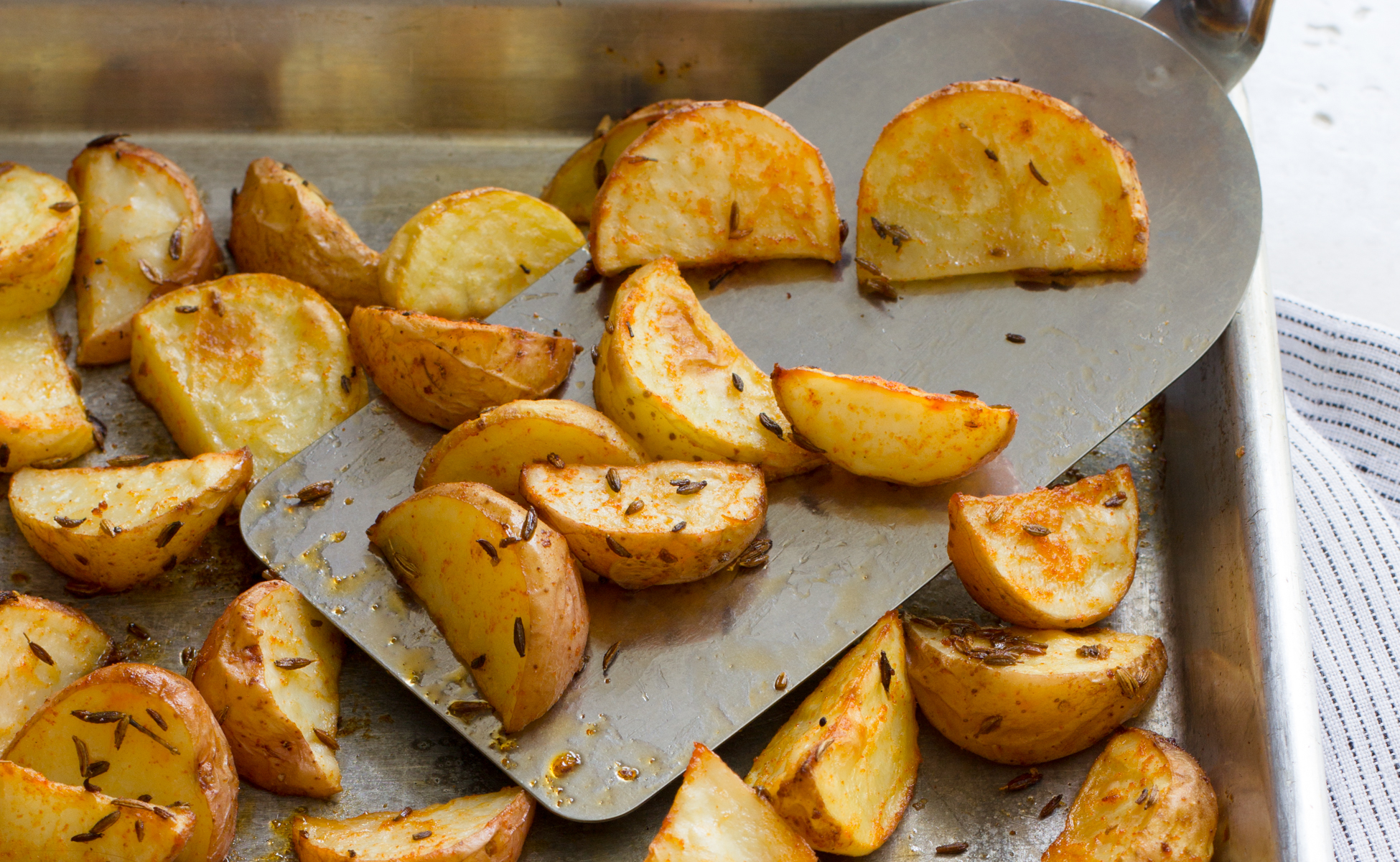 Is there anything better than crisply roasted potatoes? Perhaps only when they're given a little extra oomph, as in this recipe—tender, sweet baby or creamer potatoes get tossed with whole cumin seeds, and paprika, plus plenty of salt and olive oil (always good in almost any potato dish). Serve them alongside simply prepared chicken, steaks, chops, meaty fish, and even meatloaf. I particularly recommend pan-roasted salmon.
The recipe also includes directions for using your oven's convection setting, for even more browning and crispiness. For more about convection cooking, how it works, and what it does, read this post.
Serves 4
1 1/2 pounds baby or creamer potatoes (red, white, or a combination), cut into 1/2-inch wedges (see note)
1 1/2 tablespoons olive oil
2 teaspoons cumin seeds
1 1/2 coarse kosher salt
3/4 teaspoon paprika
Preheat an oven to 450°F (or 425°F using the convection setting).
In a large bowl, combine the potatoes, oil, cumin, salt, and paprika. Transfer to a large rimmed baking sheet, arranging the potatoes in an even layer, and bake until browned and tender, 25 to 30 minutes (or 15 to 20 minutes on convection).
NOTE By "1/2-inch wedges" I mean wedges where the back side of the wedge is about 1/2-inch wide. For 1 1/2- to 2-inch diameter potatoes, that will mean cutting them into 6 wedges each.
---
Fresh Fruit Parfaits with Raw Sugar and Whipped Crème Fraiche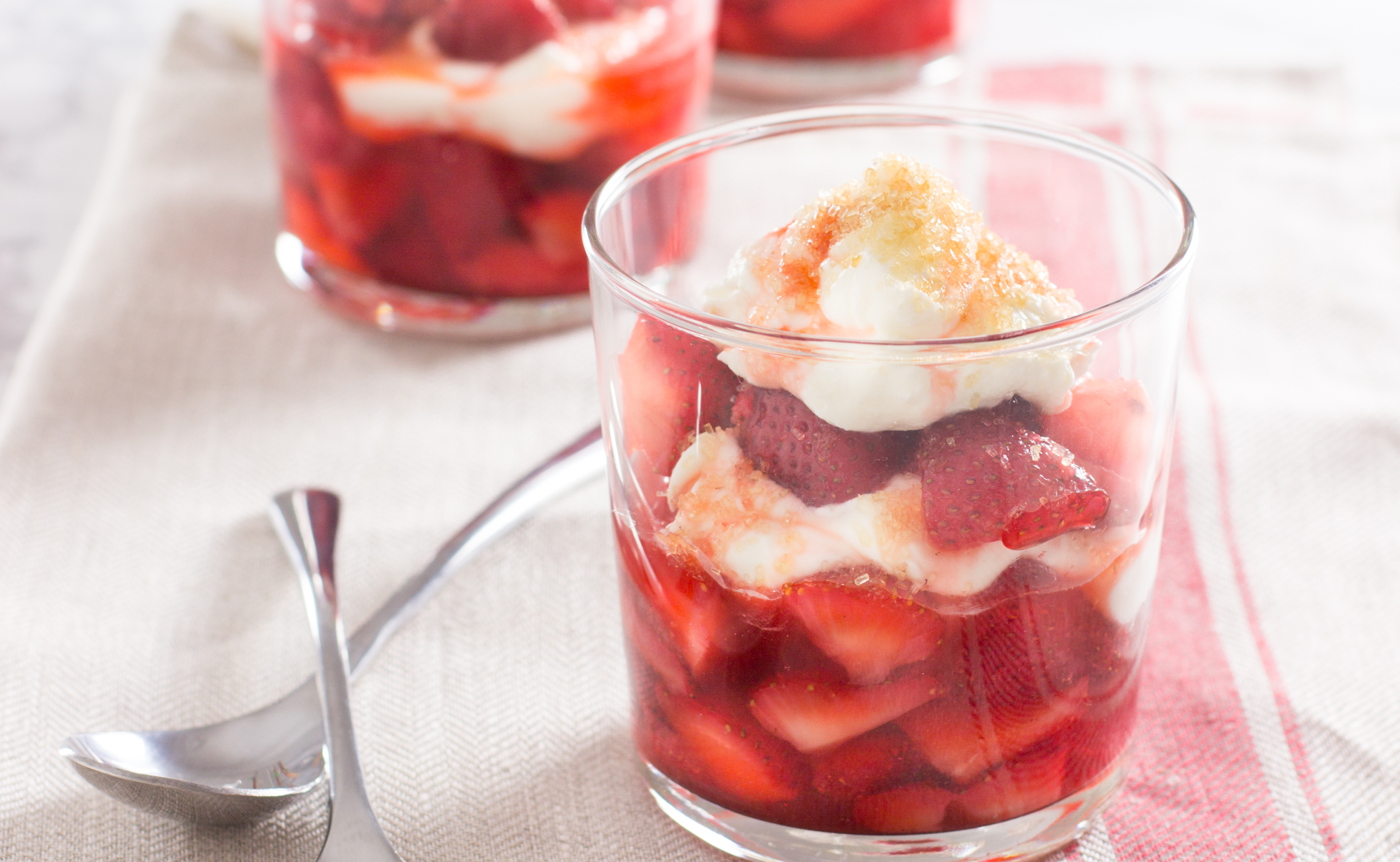 This recipe is inspired by one my mom made for company when I was a kid. It's still one of the most simple, elegant, amazing desserts I've ever seen—or eaten. She merely arranged green grapes in a wine goblet with dollops of sour cream and sprinkles of brown sugar. The green, white, and caramel-colored layers were graphic and beautiful, and the clean combination of fruity-sweet, tangy, and creamy was pretty much perfect.
I've gussied up that basic idea—by macerating the fruit for some sauciness (for more about the magic of maceration, read this post), using raw sugar instead of brown for some crunch, and swapping whipped crème fraiche for the sour cream, for a pillowy texture. But know that if you don't have time for maceration, you can skip it, and that you can use basic sour cream instead of whipped crème fraiche. (Don't try to whip your sour cream, though—it won't hold a peak like crème fraiche will.) You can even use whatever kind of sugar you like—but something with color looks best against the white of the sour cream/crème fraiche.
Serves 4
4 cups bite-sized juicy fresh fruit, for example, berries, grapes, peaches, plums, or pears
1/4 cup plus 2 tablespoons raw sugar, divided
1 1/2 cups crème fraiche
In a medium bowl, combine the fruit and 1/4 cup of the sugar. Set aside, stirring occasionally, until the fruit has softened and the mixture is syrupy, about an hour.
Using a hand or a stand mixer, whip the crème fraiche to stiff peaks.
Spoon about half of the fruit into serving glasses or bowls (parfait glasses, wine glasses, or cocktail glasses are ideal, so you can see the parfait's layers) and top with half of the whipped crème fraiche and 1 tablespoon of the remaining sugar. Repeat and serve.
---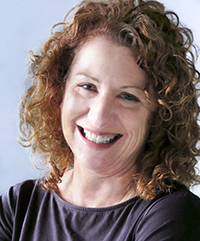 Jill Silverman Hough is all about happy cooking and delicious food. Her cookbooks include Finger Lickin' Chicken, 100 Perfect Pairings: Small Plates to Enjoy with Wines You Love, 100 Perfect Pairings: Main Dishes to Enjoy with Wines You Love, The Clean Plates Cookbook, and Skinny Bitch in the Kitch, a New York Times best seller. Her recipes, writing, and photography have appeared in magazines including Bon Appétit, Cooking Light, Clean Eating, where she's on the advisory board, and Fine Cooking, where she's the drinks editor. And she works with brands and commodity boards, too, including the National Pork Board, the California Milk Advisory Board, Lindsay Olives, Annie's Homegrown, Circulon, and Anolon.
To learn more, visit:
Jill Silverman Hough
web www.jillhough.com
kitchen wisdom www.jillhough.com/blog
facebook Jill Silverman Hough
twitter @JillSHough
pinterest @JillSHough
instagram @JillSHough
linkedin @JillSHough
my books on Amazon
Recipes and photos copyright Jill Silverman Hough. All rights reserved.