MENU
Breakfast: Buckwheat Granola with Fresh Strawberries and Milk
Lunch: Beet Hummus with Whole Grain Crackers and Mixed Lettuces with Everyday Balsamic Vinaigrette
Dinner: Farro Risotto with Asparagus, Peas, and Mint, Celery Salad with Dates and Hazelnuts, and Rustic Italian Apple Cake
---
Homemade Buckwheat Granola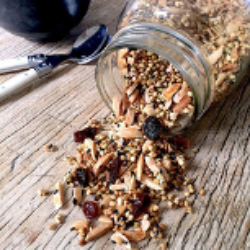 Skip the standard granola or store-bought Grape Nuts and give this crunchy breakfast cereal a try. It has just a handful of ingredients, bakes up in 20 minutes, and is loaded with good-for-you ingredients. A small portion with heaps of fruit is delicious over plain yogurt or under cold milk.
Makes 3 ½ cups (about 10 servings)
Ingredients
1 1/2 cups buckwheat (see notes)
1 cup slivered almonds
3 tablespoons sesame seeds
1/4 heaping teaspoon kosher salt
1 1/2 tablespoons extra-virgin olive oil
2 tablespoons maple syrup
1/3 cup raisins
Instructions
Preheat oven to 325 degrees F.
Put the buckwheat, almonds, and sesame seeds on a large baking sheet. Sprinkle the salt and drizzle the olive oil and maple syrup over the top. Thoroughly stir everything together with your hands or a rubber spatula. Spread on the baking sheet and bake until toasted and browned, stirring halfway through, about 20 minutes total.
Let cool on the counter to allow the cereal to crisp up. Scatter the raisins over the top. Transfer to a jar or other sealed container.
Recipe Notes
Look for uncooked buckwheat groats. You do not want roasted buckwheat or buckwheat cereal.
---
Best Beet Hummus
Earthy, brightly colored, naturally sweet beets transform into a flavorful dip or spread with the addition of almonds, garlic, and lemon. Spooned over cucumber slices, crackers, or set out along with pita chips, it makes a tasty pre-dinner nibble or light lunch.
Ingredients
2 large beets
1 to 2 tablespoons water (use beet cooking water, if desired)
1/3 cup roasted almonds
2 tablespoons extra-virgin olive oil
1 1/2 tablespoons fresh lemon juice
1 small clove garlic
1/4 teaspoon kosher salt
Optional serving idea: chilled English cucumber slices and fresh goat cheese
Instructions
Trim off the beet greens and save for another use. Scrub the beets well and put into a medium pot covered by a couple of inches with water. Set over high heat and bring to a boil. Drop the heat a touch until the beets cook at a medium boil until tender enough that you can easily slide a paring knife into the center. You don't want any "crunch" to your beets. The time will vary depending on how big the beets are and how rapid the boil. Use a slotted spoon to remove the beets from the cooking water (don't toss the water, you will need it).
When the beets are cool enough to touch, use your hands to slip off the skins and discard. Beet juice stains, so watch your clothing. It helps to do this step under running water to avoid staining your hands. .
Cut the beets into quarters and put into the bowl of a food processor fitted with a metal blade. Add 1 tablespoon water, the almonds, olive oil, lemon juice, garlic, salt. Turn on the processor and let it run until the beets turn into a fine puree. If it seems too thick, add another tablespoon or 2 of water and puree again. Taste it and add more salt if needed.
Serve with sliced cucumbers and whole grain crackers on the side.
---
Simple Balsamic Vinaigrette
There's no need to buy bottled dressing when homemade is as simple as this recipe. The secret ingredient here is a splash of soy sauce, which adds a big bump of flavor. The dressing is tangy, so feel free to add an additional splash of olive oil if you want to tone down the acidity.
Makes enough for 1 generous salad
Ingredients
1 tablespoon plus 1 teaspoon balsamic vinegar
2 teaspoons white wine vinegar
3/4 teaspoon soy sauce
1 ½ teaspoons coarse/whole grain Dijon mustard (such as Maille or Grey Poupon)
⅓ cup extra-virgin olive oil
1 teaspoon minced garlic or 2 teaspoons minced shallot (optional)
Instructions
Put all of the ingredients into a jar with a lid. Shake vigorously to blend. Store in the fridge until ready to use.
---
Spring Farro Risotto
The recipe has extra appeal because unlike classic risotto that requires constant stirring, this version requires no fuss once it goes into the oven. It relies on onions, bacon and lemon to get the flavors going as it cooks. If you don't eat pork, just leave out the bacon. I'm personally fond of a hit of bacon in my cooking, along with its Italian cousin, pancetta. Although both are notoriously fatty, they pack in loads of flavor so you can get away with just using a small amount to season an entire recipe.
4 to 5 servings
Ingredients
1 tablespoon extra-virgin olive oil
1 large yellow onion, chopped
2 strips bacon, chopped (leave out for a vegetarian version)
3 tablespoons fresh lemon juice (1 juicy lemon)
1 cup semipearled farro (see notes)
3 cups low-sodium chicken broth or vegetable broth
1 cup English peas (3/4 of a pound in the shell), see notes
1 bunch asparagus, stems snapped off, cut into 1-inch long pieces
2 tablespoons finely chopped mint
1/2 teaspoon salt
1/4 cup grated Parmesan cheese
Instructions
Preheat oven to 400 degrees.
Heat the oil in a large pot with an oven-proof lid over medium-high heat. Add the onion and sauté for 2 minutes. Turn the heat to medium and add the bacon. Continue to sauté until the onion is translucent and the bacon is cooked (though it won't be crispy).
Add the farro and the lemon juice and turn the heat to high. Cook until the farro absorbs the juice. Add the chicken broth and bring to a boil. As soon as it boils, set the lid on the pot and put it into the oven.
Bake for 30 to 35 minutes until the farro is just tender, with no crunch to it (al dente). Remove from the oven and add the peas and asparagus. If the farro looks dry, add 1/4 cup of water or broth. Give it all a good stir and put it back into the oven for another 7 to 8 minutes until the vegetables are just tender (keeping in mind they will continue to cook a little once out of the oven).
Remove from the oven, add mint, salt, and Parmesan. Serve immediately.
Recipe Notes
If using pearled farro (as opposed to semipearled), scale back the broth to 2 1/2 cups and add more as needed. Also, keep any eye on the clock, since pearled farro cooks more quickly than semipearled. If English peas are not in season, use frozen, defrosted peas.
---
Celery Salad with Hazelnuts, Dates, and Pecorino
This salad proves there is much more you can do with a stalk of celery than pile on the peanut butter. Chewy dates, salty Pecorino, and earthy, sweet hazelnuts are great partners for the watery crunch of humble celery.
4 servings
Ingredients
1 1/2 tablespoons extra-virgin olive oil
1 1/2 tablespoons white wine or champagne vinegar
1/8 teaspoon  sriracha or other hot sauce
6 stalks celery
Pinch salt
1/4 cup toasted hazelnuts, roughly chopped
4 Medjool dates, pitted, halved, and sliced thin
Pecorino cheese (about 1 ounce)
Instructions
Pour the olive oil, vinegar, and sriracha onto a plate (a large salad plate will do). Use a fork to blend the sriracha into the oil and vinegar.
Cut the celery crosswise at a diagonal into 1/4-inch-thick slices and pile onto the plate. Add a pinch of salt and use your hands or coat the celery with the oil and vinegar.
Scatter the dates and hazelnuts over the top. Use a vegetable peeler to shave thin shards of Pecorino over the top. Toss gently.
---
Rustic Italian Apple Cake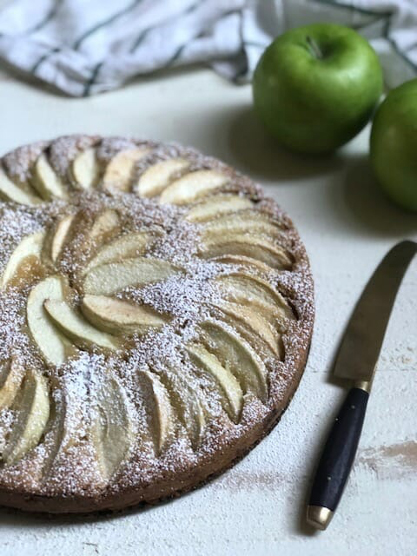 This is a very simple cake that isn't too sweet. It's excellent for dessert, in the afternoon with a cup of tea, or even for brunch. The cake is made in a 9-inch springform pan. You can also use a 10-inch pan if you increase the recipe by 50 percent and expect it will take a bit longer to cook. Serve it plain or with freshly whipped cream or lightly sweetened Greek Yogurt.
8 to 10 servings
Ingredients
Butter and flour for dusting the pan
3 Granny Smith apples
2 eggs
1/2 cup extra-virgin olive oil (or organic expeller-pressed canola oil)
2 tablespoons Sambuca (see Notes)
1 cup whole-wheat pastry flour
1/2 cup plus 3 tablespoons sugar
1 heaping teaspoon baking powder
Confectioners' sugar to finish; whipped cream or Greek yogurt for serving
Instructions
Preheat oven to 325 degrees F.
Coat a 9-inch springform pan generously with butter. Lightly dust with flour.
Peel and core the apples. Slice into ¼-inch-thick wedges. Set aside.
Crack the eggs into a medium bowl. Add the oil and whisk together until one even consistency. Add the Sambuca, flour, sugar, and baking powder, and whisk until smooth.
Pour the batter into the prepared pan. Set the apples in the batter in a circle around the edge of the pan, overlapping slightly. Gently press the apples into the batter. Lay an inside circle of apples into the batter as you did the first.
Bake until the cake is golden brown and a knife inserted into the center comes out clean, 50 to 60 minutes.
Let cool for at least 30 minutes.
Remove the outside of the springform pan. Lightly dust the top of the cake with confectioners' sugar, if desired.  Serve in wedges with whipped cream or Greek yogurt.
Recipe Notes
Sambuca is an Italian liqueur that adds a wonderful anise flavor to this cake, so it's worth seeking out. If you don't have it, substitute 2 tablespoons fresh orange juice plus 1 teaspoon vanilla extract. It lends a pleasant, albeit different, sort of flavor.
---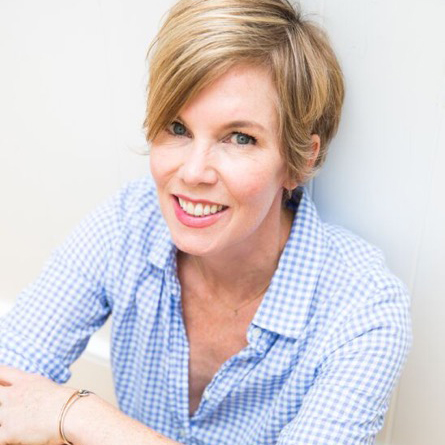 Katie Sullivan Morford is a food writer and registered dietitian with a passion for bringing good food and good nutrition to the plate. She is the author of three cookbooks: Rise & Shine: Better Breakfasts for Busy Mornings, PREP: The Essential College Cookbook, and Best Lunch Box Ever. Katie has written and developed recipes for a number of publications, including Better Homes & Gardens, Health, Real Simple, Family Circle, Parents, Self, the San Francisco Chronicle, and the New York Times. She is the Nutrition Editor for the website Simply Recipes and founder of the blog Mom's Kitchen Handbook. Katie has an undergraduate degree in English literature along with a Master's Degree in Clinical Nutrition from New York University. She lives in San Francisco with her husband and three daughters.
Instagram @katiesmorford | momskitchenhandbook.com