My Ideal Salad
Serves 4
Ingredients
Salad:
– 2 heads of romaine or iceberg lettuce, chopped
– ¼ cup olives of your choosing, halved and pitted
– Small tub of fresh ciliegine mozzarella, quartered
– ¼ teaspoon dried oregano
– ¼ red onion, sliced thin and soaked in water (just trust me)
– 2 Persian cucumbers, chopped
– a few cherry tomatoes, quartered
– 1 can of cooked chickpeas (or fresh if you're cool like that)
– 2 pepperoncinis, sliced into thin rounds
Dressing:
– ½ cup olive oil
– ¼ cup red wine vinegar
– 10-15 leaves of basil, chopped finely
– Juice of ½ of a lemon
– 1 shallot, minced
– 1 teaspoon dried oregano
– 1 clove of garlic, minced
– Salt + pepper to taste
Directions
Dressing:
1. Combine all ingredients in a mixing bowl and whisk until emulsified
2. Taste, and add salt, pepper or lemon juice if needed
3. Dressing always tastes better after it's settled for a bit, so if you can make it at least 30 minutes before serving.
Salad:
1. Combine all the chopped vegetables into a large bowl (or into a few small Tupperware containers if you're meal prepping)
2. Sprinkle salad with salt, pepper, and dried oregano
3. Toss with dressing just before serving
---
Rosemary Smashed Potatoes
Serves 4
Ingredients:
-15 small yukon gold potatoes (or 20 ish pee wee potatoes)
-3 tablespoons olive oil
-1 teaspoon flakey sea salt
-1 teaspoon fresh cracked pepper
-A few sprigs of rosemary, roughly chopped
-A few sprigs of parsley, finely chopped (optional)
-Red pepper flakes (optional)
Directions:
1. Preheat your oven to 425 degrees.
2. Line a sheet pan with parchment paper.
3. Throw the whole potatoes on there.
4. Toss in half of the olive oil and all of the salt and pepper, give them a even mixing to coat the potatoes.
5. Bake until they're fork tender, about 40 minutes.
6. Smash those potatoes with a flat object, so that all the potatoes are about 1/4th of an inch thick.
7. Once they've been sufficiently put in their place, drizzle the potatoes with the rest of the olive oil.
8. Toss rosemary onto the baking dish.
9. Cook until the edges begin to look crispy, another 15 minutes or so.
10. Finish with a little more salt, parsley and perhaps some red pepper flakes (if you're feeling really wild).
---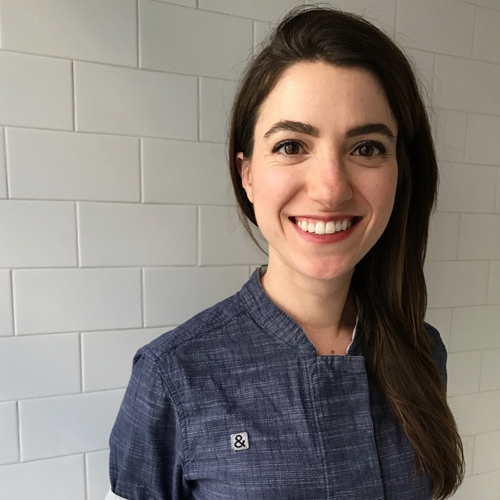 Natasha Feldman is a classically trained Personal Chef and Culinary Instructor living in Los Angeles CA.  Her cooking style features healthy, seasonal Mediterranean cuisine inspired by the farm to table movement.  She specializes in providing clients with simple, fresh and family-friendly meals that are delicious and diet friendly. She frequently tailors recipes for gluten-free, low glycemic, low sodium and dairy-free diets.
Natasha was the Southern California culinary director for Miele USA, conducting live demonstrations in their Beverly Hills showroom and at national conventions, in addition to teaching all of their cooking classes in Southern California. Additionally, Natasha runs a digital production company specializing in food content. Her show, Cinema & Spice, was picked up by Yahoo soon after it launched. It became the most-watched series in their digital entertainment division and was nominated for a Webby. She has appeared live on TV as a featured chef, both nationally on The Steve Harvey show and locally on the morning news. Natasha has worked as a freelance recipe creator for Yahoo, as well as with corporate clients including Kraft, Le Creuset, Green & Blacks Chocolate, KitchenAid, Lifetime Television, Huffington Post, AOL, and Warner Brothers.
Natasha has been coming to the ranch since she was 15 and is thrilled to be here to teach!