During this seemingly endless time of stay-at-home order, countless Americans have discovered the joy of baking. My daughter, Angela who once had a very busy life with no time to cook has become a fantastic baker and cook. I am very proud of her of course, but can't help but be concerned with the amount of carbohydrates she and other countless bakers are consuming.
Baking has become an obsession not only because of the challenge and time it commands, but more so because freshly baked delectables warmed and perfumed are heavenly. As an aging woman who must watch my diet, freshly baked bread slathered with butter is beyond good. However, after stuffing myself with it, I can imagine it transforming into carbohydrates traveling downward in my body turning into glucose.The immediate reaction after a couple of hours of enjoyment is the effect of the sugar spiking, making me lazy, longing for a long nap. To keep this old engine of mine working at its best, I try to cook dishes packed with fresh vegetables and occasionally reward myself with fresh baked goodies.
This is a recipe based on a traditional Thai rice salad, using generous portions of greens, herbs and flowers. Although you and I are far away from Tres Estrelles, we can get close to it by making this salad. You can substitute the vegetables, herbs and flowers that are available to you. Although there are a couple of exotics that you might have to try to find in your local markets: lemongrass and anchovies.
The main concept for this salad is to combine:
Vegetables that are visually pleasing with different textures and taste.
Herbs that are fresh such as mints, basils, cilantro, chervil, dill, parsley, etc. If this is difficult to procure use two that are easiest to find such as mint and cilantro.
Everything into a uniformed size for easy mixing and dining.
Like the process of baking, this salad will take time. Although you can do much of it ahead of time, such as cook the rice, make the dressing, boil the eggs, make the crispy kale, and roast the cauliflower. This leaves the vegetables and herbs to be prepped close to the time of serving. This salad is a good project for your family as well. It lets your imagination take flight and boost your creative energy. The end result is a beautiful salad, unlike any salad you have ever seen or tasted.
---
Tres Estrella Salad (with a Thai touch)
Serves 4 to 6
2 hard boiled eggs, chopped
½ cup chopped dilled or sweet pickles
½ cup crispy kale, crushed into small flakes**
1 cup thinly slivered cabbage (possible to mix purple with green cabbage, or thinly sliced fresh peas)
1 cup arugula flower or any fresh edible flowers such as nasturtium, viola, calendula, rose petals or chive blossoms
1 cup mixed thinly sliced endive, carrots and chives or red onion
1 lime, small cubes with peel
1 cup room temperature cooked red organic rice (substitute with brown or white rice)
1 avocado, sliced into small cubes
1 cup roasted cauliflower or broccoli florets, thinly sliced**
1 teaspoon or more dried chili powder
½ cup shredded smoked salmon (optional)
1 lemongrass, minced
Zest of one lime and zest of one lemon
1 cup mixture of chopped mint, basil and parsley
½ cup or more dressing**
2 to 3 lime, sliced
Make neat and decorative mounds of each of the ingredients except for the dressing in a large salad platter.
When ready to serve, mix all the ingredients together gently and drizzle the dressing over, mix again and serve immediately.
---
Crispy Kale
5 to 6 kale leaves, washed and thoroughly dried
1 tablespoon or more olive oil
Salt for sprinkling
Preheat the oven to 254 degrees F.
Remove the ribs from the kale and cut into 2 inches pieces.
Lay on a baking sheet and toss with olive oil and salt
Bake for 10 minutes, and then turn the leaves over the other side and bake for another 10 minutes or until crispy.
Cool completely before crushing into small flakes for the recipe.
---
Roasted cauliflower or broccoli florets
½ head of cauliflower, separate into small florets
Olive oil spray
Salt and pepper to taste
Preheat the oven to 400 degrees F.
Put the cauliflower in a mixing bowl and spray generously with olive oil spray.
Sprinkle salt and pepper to taste.
Bake for 10-12 minutes until the surface is brown.
Cool and sliced into very small florets for the recipe
Dressing
¾ cup anchovies, salt or oil removed
1 cup water
1 cup palm or dark brown sugar, firmly packed
6 shallots, peeled and slightly pounded
2 stalks lemongrass, tough outer layers removed, sliced into bite size pieces and pounded slightly
10 strips fresh lime
15 thinly sliced ginger, slightly pounded
Add the remaining ingredients and cook until it begins to boil. Lower the heat to medium and cook until the liquid clings to the side of the spoon, 15 to 20 minutes. Taste for balance of sweet and saltiness
Pour the dressing through a fine mesh strainer, and then discard the solids. Cool before using. If making ahead, refrigerate and re-heat to liquify the dressing.
---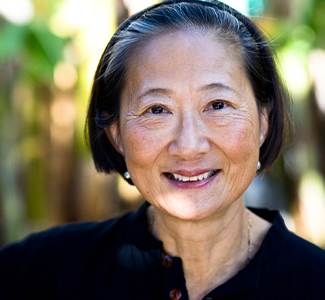 Su-Mei is the owner of Saffron, the first Thai restaurant in San Diego. For the past 22 years, she has returned to her native Thailand at least once a year to learn, collect and record recipes from "old-timers." She is a food historian, teacher and writer whose articles have appeared in numerous food magazines and journals. She has written two cook books: "Cracking the Coconut" and "Asian Grilling." "Cracking the Coconut" won the Julia Child Award. Her third cookbook "Elements of Life" was published in October 2009.   Her latest project is leading a crusade to rally people back to the joy of cooking. This past November, she returned to Thailand and helped a friend found a culinary center for children and adults called Prem Center, Organic Cooking Academy by Su-Mei. The goal is to teach students how to plant, harvest and cook seasonal plants using ancient Thai self-sustainable planting methods, as well as traditional cooking techniques and recipes.