A Fitness Retreat with Stephanie
AT RANCHO LA PUERTA
September

21-25, 2024
As a former dancer, Stephanie has always had a love for movement. While in college she pursued a dance career that included performing, choreography and back-up dancing in the music industry. Ultimately she put her dance aspirations aside and chose to enter law enforcement where fitness and discipline are paramount to success. It is during this season that her passion for building strength came into focus. When Stephanie and her husband started their family, she began to weave good nutrition and regular exercise into the life fabric of their family. Along the way Stephanie became certified as a personal trainer, group instructor and nutrition coach.
These milestones have culminated in Stephanie K Fitness and Nutrition. Bringing passion and encouragement as she partners with her clients to elevate their training, strengthen their bodies and accelerate their results.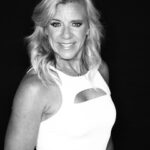 Stephanie Kerkechian has broad experience in the fitness industry. She leads classes in club environments, offers private and small group training, and teaches fitness programs for special needs. Every Saturday morning you will find her instructing bootcamp classes in her hometown of Sonoma. The bulk of her time is spent as a personal trainer, working one-on-one with clients both in person and online.