Modern carrots were first domesticated in Afghanistan around the 10th century B.C.E.  With extended trading, the humble carrot made its way to Europe through Arab traders, and was further domesticated to their bright orange body and green tops by the Dutch. The Spanish brought carrots to the New World, where they flourished and became a major crop.  Packed full of vitamin A, C, and B, crunchy carrots and their leafy tops rise above their root-crop roots.
This is a great way to use tender, flavorful carrots that are long, slender and still have their tops (be sure to use organically-cultivated carrots!). If available, use a variety of orange, yellow, and/or purple carrots for a striking presentation. The pesto is excellent drizzled on top of the roasted carrots, and it's also a delicious dip for raw veggies.
Serves 4 to 6
Roasted Carrots:
About 1 pound carrots or 12 medium sized carrots (cut any large carrots in half lengthwise)
Coarse salt and freshly ground black pepper
Extra virgin olive oil
Preheat oven to 400˚F.
Trim tops of carrots and set aside. Arrange the carrots in a single layer on one or two rimmed sheet pans and drizzle with a couple of tablespoons of olive oil.  Sprinkle with salt and pepper. Roast until the carrots are fork tender, approximately 20 to 25 minutes.
Carrot Top Pesto:
2 cups carrot tops
1 cup fresh Italian parsley, coarsely chopped
1 cup roasted almonds, coarsely chopped
½ cup grated Parmigiano Reggiano
1 to 2 chopped garlic cloves, to taste
Juice of 1 lemon, about ¼ cup to taste
Coarse salt and freshly ground black pepper
½ cup extra virgin olive oil
Place the carrot tops, parsley, almonds, cheese, garlic, and lemon juice in the bowl of a food processor, and process until very finely chopped. Add a pinch of salt and ground black pepper. With the food processor running, gradually add the olive oil through the feed tube. Add an equal blend of olive oil, lemon juice, and water if the pesto is too thick. Add salt and pepper to taste.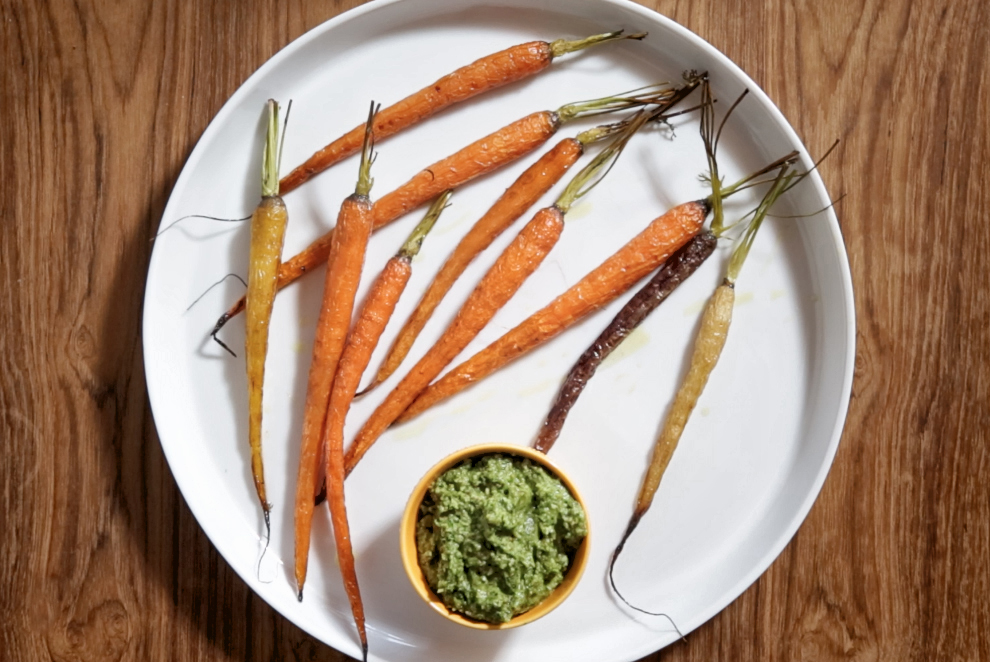 Serve warm or at room temperature. You can see our approach in Cooking With Rancho La Puerta below.