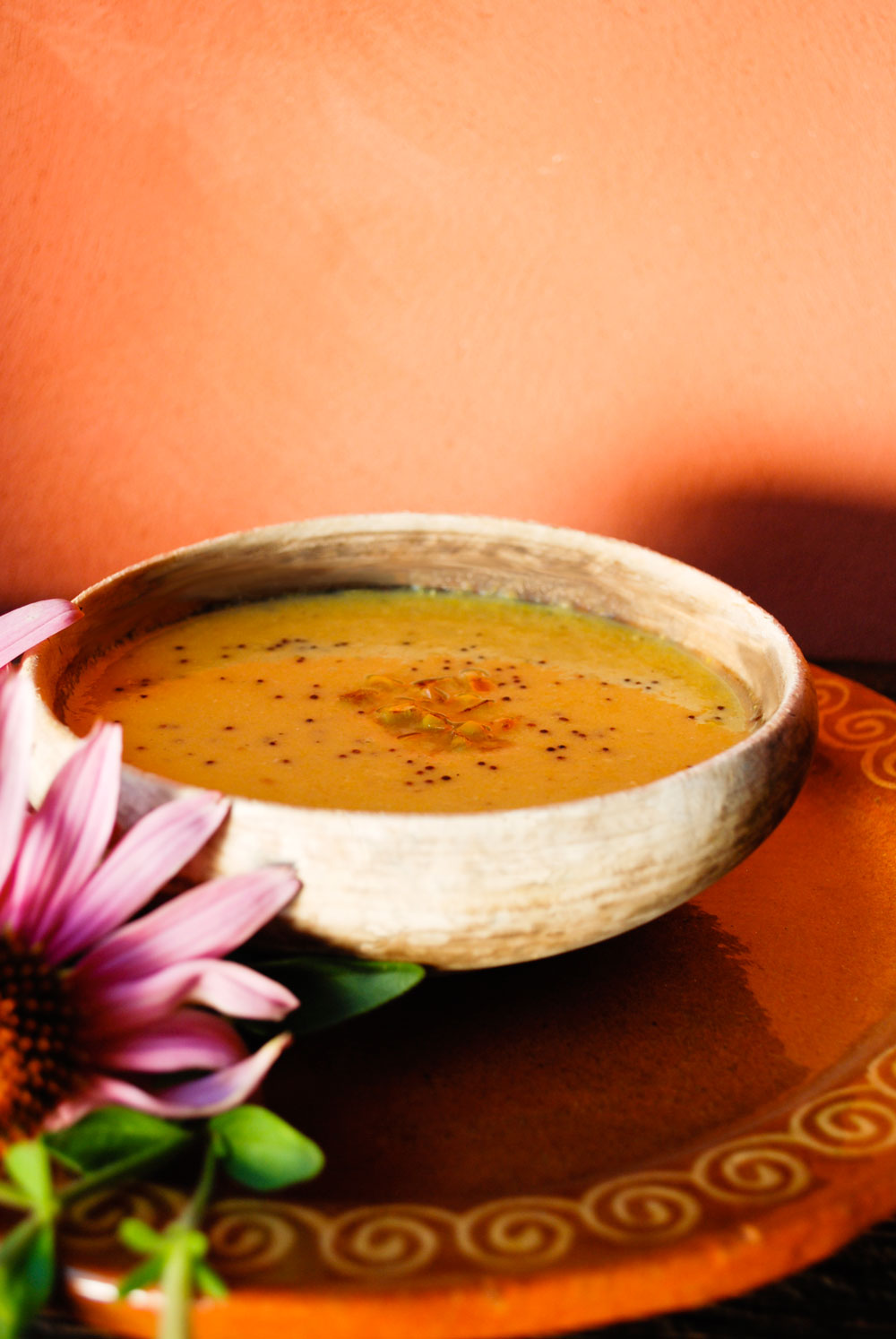 This soup is a favorite at The Ranch and we hope you enjoy it as much as we do. It's bursting with flavor, incredibly delicious and healthy. We love making it with the last of the summer's fresh sweet corn.
Roasted Corn Soup with Ancho Chile Sauce
Ingredients
1 tablespoon olive oil
1/2 medium white onion, chopped
1 garlic clove, minced
1 teaspoon coriander seeds
6 ears roasted corn on the cob (or 3 cups frozen corn)
1 small potato, peeled and diced
4 cups vegetable broth
1/2 bunch fresh cilantro, chopped
Salt and pepper
Ancho Chile Sauce
1 teaspoon olive oil
1/4 cup onion, chopped
1 clove fresh garlic
1 ancho chile, seeds and stem removed
1 cup fresh tomato, chopped
1/2 teaspoon oregano
1/4 teaspoon cayenne pepper
1/2 teaspoon agave syrup
1/2 cup water
Salt
Instructions
Heat the oil in a soup pot over medium heat. Sauté the onions, garlic and coriander seeds until the onions are translucent and golden brown.
Add the corn kernels, potato and the broth. Cover and cook for 10 minutes. Reduce heat to low and continue cooking for another 5 minutes.
Add the cilantro. Remove the soup from the heat and allow to cool for 20-25 minutes.
Puree the soup in batches in a food processor, then strain it through a fine strainer. Season with salt and pepper to taste. Re-heat if necessary and serve.
Sauce
Heat the olive oil in a small pot and sauté the onion and garlic until translucent and golden brown. Add the ancho chile and stir for another minute.
Add the tomato, oregano, cayenne and agave syrup and cook, covered for 5 minutes.
Add the water and bring to a boil. Allow the sauce to cool, then puree it in a food processor until smooth. Add salt to taste. Drizzle 2 teaspoons of sauce over each serving of Roasted Corn Soup.
Note: You will have more sauce than you need; it will hold well in the refrigerator for up to one week and can be added to other dishes.
Makes six 8 oz. servings. Calories per serving: 131.