Join Jeffrey Breslow, the man behind the scenes, to hear about where your favorite toys and games have come from and spark your imagination to create your own toys and games.
These presentations will provide you with a fascinating look into the game industry. You will hear about where some of your favorite games have come from. Then you will learn how you can create your own games, how you learn from failure and celebrate fun by reaching into your own inner child.
How Do You Spark Genius?
Jeffrey will also talk about the importance of the concept and idea of failing and how failing contributes to the creativity of genius work. He will also discuss how deadlines and pressure stimulate inspiration and innovation.
Game Designing 101: Where Do You Start? Where Do You Go from There?
In this presentation Jeffrey will talk about where do ideas come from to make a game. He will then provide a pathway for those ideas to turn them into reality. Your friends and family will have a blast hearing about the games you may be able to create after attending this presentation.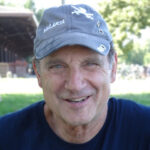 Jeffrey Breslow is a preeminent toy and game designer having spent 41 years inventing and playing games since graduating with a BFA in Industrial Design from the University of Illinois. Jeffrey became the youngest managing partner of Marvin Glass and Associates, the leading toy and game design company in the world. And he was a founding partner of Big Monster Toys which is a landmark tourist destination in Chicago. Jeffrey has been inducted into the Toy Manufacturers Hall of Fame and he won two Good Housekeeping awards for best game of the year. Currently he is a full-time sculptor and author.