Acoustic Folk Concert + Q & A Join internationally-acclaimed folk songwriter Amber Rubarth for an intimate concert of songs delving into the deeper meanings of life.
Workshop: Access Your Deeper Self through Song
Join Amber Rubarth in this stimulating workshop using songwriting and improv techniques to access your creative being!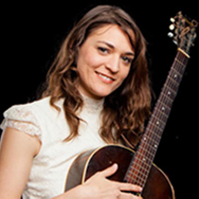 Amber Rubarth has performed her music far and wide, touring solo across South Africa, Europe, Japan, and all throughout America with her "unique gift of knocking down walls with songs so strong they sound like classics from another era." –Acoustic Guitar Magazine. She was recently cast alongside Joe Purdy to star in the feature film 'American Folk' which won numerous festival awards and was released in theaters January 2018 (Good Deed Entertainment). The film received high praise with the Hollywood Reporter calling it "Superb… A heartfelt homage to American folk music," and Rolling Stone premiering the first single as "Enchanting… beautifully recalls several of the duets that John Prine has sung so effectively with frequent partner Iris DeMent, yet it offers the added bonus of discovering two wondrous new voices."
Rubarth left home at 17 years old to become a chainsaw sculptor in Nevada. At 21, she quit and decided to begin writing songs and teaching herself guitar. One of her early originals was awarded Grand Prize in NPR's Mountain Stage New Song contest and led to her recording an album produced by Jacquire King (Tom Waits, Norah Jones). She has performed hundreds of stages around the world, from the early days opening for a flea circus at a Texas theme park, to performing an original duet with Jason Mraz at Carnegie Hall, to full orchestral arrangements of her songs with the Ithaca Chamber Orchestra woven into classical works. She moves fluidly between genres, creating a unique palette of instrumentation for what best serves the song. This fluidity and curiosity has led to her being hand-picked to open for many diverse artists including Emmylou Harris, Kenny Loggins, Richie Havens, Dr. Ralph Stanley and Loudon Wainwright III. She continues to reinvent herself, most recently with her 2017 release 'Wildflowers in the Graveyard,' a cycle of songs exploring nature's graceful relationship between life, death and rebirth. The album is self-penned by Rubarth and recorded in analogue to 2" tape with co-producer Matt Andrews (Gillian Welch, Dave Rawlings, Dawes) in her hometown of Nashville.
After many years of solo touring, Rubarth lights up these days with collaborations in both film and music. She has written original songs and score for numerous films including Sundance festival winner 'Joan Rivers: A Piece of Work' and the supermarathon documentary 'Desert Runners.' She co-founded 'The Paper Raincoat,' a Brooklyn-based iTunes Indie Artist Spotlight band featured in Disney's 'The Last Song,' the CW's 'One Tree Hill,' and Paste Magazine who said "We think the world might be a little better if everyone heard this record." In 2016 she recorded a live-to-tape single microphone album with her folk trio 'Applewood Road' which the London Sunday Times gave 5 stars, calling it "a flawless set that has to be the most haunting release of the past year" which led to performances at Glastonbury Music Festival, Cambridge Folk Festival, a UK tour supporting Mary Chapin Carpenter, and her original arrangement and performance featured in the 'BBC Sisters in Country' documentary with Dolly Parton, Linda Ronstadt and Emmylou Harris.
For more information, visit www.AmberRubarth.com