All levels, come try your hand at Texas Hold'em Poker as Lorraine and Johnny teach the fundamentals of this popular game. Have fun and learn how to play confidently with friends and in tournaments.
Fun with Poker – Basics of Texas Hold'em
The Introductory sessions will cover the rules and basic strategy, preparing Ranch guests for the open Hold'em tournament later in the week. Practice games will be included. Sessions 1 and 2.
More Fun with Poker – Beyond Basics of Texas Hold'em
The Intermediate session will explore more advanced topics that with practice can help get you ready for a seat at any poker table.  Practice games will be included. Session 3.
Rancho La Puerta Texas Hold'em Poker Tournament
Come join other Ranch guests in a fun and friendly poker tournament. Prizes will be given for top placements and more. All skill levels are welcome!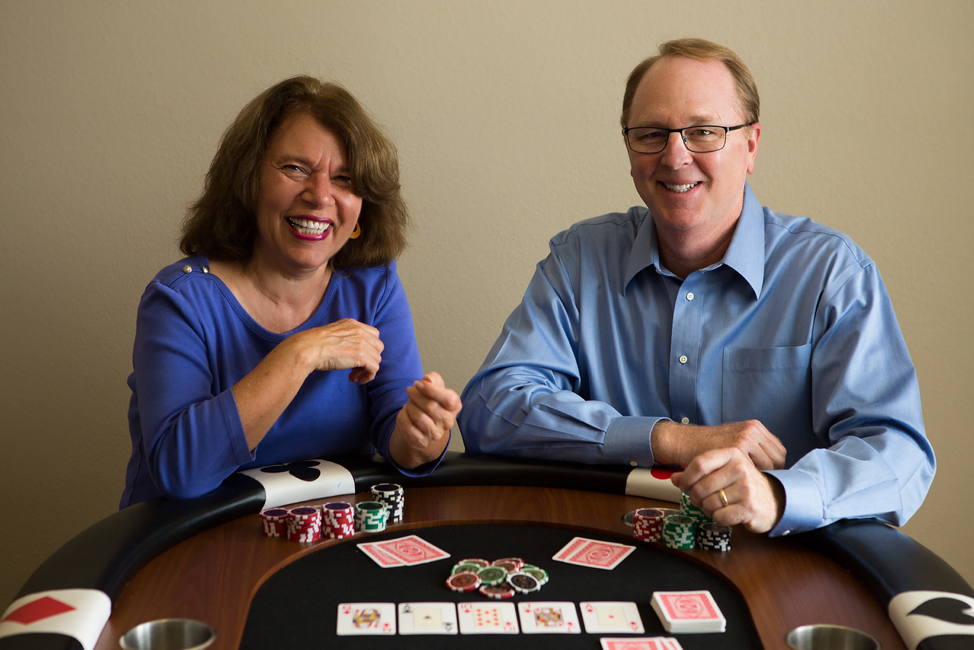 Lorraine Clayton
3rd place in 2013 Rancho La Puerta Poker Tournament
Founder and regular player in a long-standing monthly home poker game playing cash and tournament formats.
Helped organize multiple charity poker events
Played in various casino poker tournaments
Co-founder All-In Academy Poker
Board member and active participant in numerous charities, career in technical project management, volunteer at Celebrity and PGA golf tournaments, recreational golfer and poker enthusiast.  Loves living in beautiful San Diego and has an adult son living in the Los Angeles area.
Johnny Goebel
Played in Las Vegas World Series of Poker events in 2017, 2018 & 2019, including The Big 50 – the largest tournament in history (28,371 players)
Started hosting a monthly home game in 2011 (~18 players/month)
Organizer and Tournament Director for charity poker tournaments
Won casino tournaments in San Diego and Las Vegas
Member of a competitive poker club sending multiple players to the WSOP $10k Main Event and the $1500 Monster Stack every year
Co-founder All-In Academy Poker
Career as a software development department head. In addition to poker, is an avid golfer, Master of Ceremonies and a capella singer. Johnny lives in San Diego with his beautiful wife Sylvia and they have two adult sons.
Lorraine and Johnny have been friends for over 20 years as co-workers and poker "rivals".