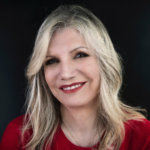 Join American concert pianist and author Mona Golabek, star of acclaimed theatrical production " The Pianist of Willesden Lane" when she shares the inspirational story of her mother, Lisa Jura, based on the best selling book, " The Children of Willesden Lane" soon to be a major feature film.
Through music and acting, Mona tells the inspiring story of her mother's experience on the Kindertransport, her life in a foster home in London with 30 other Jewish refugee students, her commitment to her musical studies, and the eventual realization of her dream of becoming a concert pianist.
Her performance has been acclaimed by critics and audiences across America, with recent sold out theatrical runs in New York and London. Ms. Golabek has received Best Actress Nominations from the New York and Los Angeles Drama Critics Circle.