I have a secret to tell you. Right now, you already have all the skills you need to make sketching a satisfying life-long practice. Join me to see for yourself the habits you can develop that will make this practice an on-going part of your life. You'll find that a drawing practice does more than fill scrap paper and sketch books with random images. It will give you a method to see things in a new way, and a habit of being more present to your surroundings. Like a puzzle, a game, or sports, sketching keeps you grounded in the here and now. It is a practice that will enhance mindfulness and attention…and it might even improve your drawing skills. Let's learn some simple sketch exercises that are all you need to begin a lifetime of drawing enjoyment and satisfaction.
Session One
Finding a way in | Finding a way out – Let's learn to see together, let's learn how to find a way into interpreting what we see through the language of sketch. There are so many ways to get started, we'll try a few, and you'll begin to find what works for you.
Session Two
Portrait roulette – For most of us there is nothing more intimidating than drawing another person. Let's throw caution to the wind, pick up our pencils and take our new found skills of observation for a spin. We'll take turns quick-sketching one another and see how satisfying it is to capture people on paper.
Session Three
Fifty shades of green – Pine trees, Pepper trees, Azaleas, Olives, Avocados, Weeping Willows
and a fresh cut lawn. They are all green! How can we use a limited palette of paints to respond
to the greens we see and build a symphony of green. Starting with blue and yellow, and even
muting it with a bit of red, you'll discover just how beautiful an array of greens can be.=
Session Four
Only you have your point of view – learning to find satisfaction in sketching means learning to
see the world in a different way. Today we'll explore elements of composition and point of view.
We'll learn to eliminate distractions and how to place the point of interest on our paper. You'll
see how changing your view point, even just a little, can greatly enhance your sketching
experience.
Session Five
Putting it all together – Now that we've gotten our feet wet, let's take sketch to a new level. Using line and color we'll compose a study from nature. We'll look at simplifying the complex world and narrowing our point of view so that we can create a color sketch that captures a moment in time and renders it as a keepsake.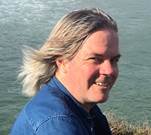 Tom Birmingham is an artist and photographer living and working in Big Sur, California. After years of being intimidated by the perceived rigor of developing drawing skills, he embarked on a sketch practice that immediately brought satisfaction and enhanced his experiences in his travels and his daily life. Tom is a founder of the Peninsula Sketchers in Monterey, California. He teaches line and watercolor sketch around the country and on his annual Italian sketch tours. For thirty years, Tom has taught creative expression in photography, theater, and visual arts to artists and novices, adults and children around the world.