Family: Social Chess and Lessons
Join Alex and your fellow chess enthusiasts nightly from Sunday through Wednesday at 7pm for social games, to learn/play chess variants like "Hand and Brain" or "Bughouse," and/or participate in chess lessons for those who wish!
Family: Great Chess Games Played by the Masters
Join chess coach Alex Freuman for a glimpse into the artistry of some of the greatest chess masters of all time. We will review 2-3 classic games and analyze the moves that resulted in each masterpiece. Participants will develop a deeper appreciation and understanding of chess strategy and tactics.
Teens and Adults: Juggling
Join Alex to learn the basics of 3 ball juggling; those with basic knowledge of juggling will learn more advanced skills (one up, 2 down; passing…)
Family: Daily Brain Games
Put on your thinking caps and stop by the Lounge every morning to pick up a fresh-baked daily puzzle designed to tickle your brain and keep your mental fitness sharp! There will be puzzles suited for all ages!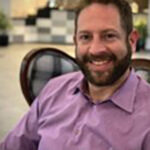 Alex Freuman, MS, BA,  is a high school STEM teacher who holds a BA in mathematics from Oberlin College and an MS in mathematics education from Hunter College in New York City.   At Oberlin, Alex was a founding member of the Juggling Club, where he honed many circus skills, including fire juggling, fire eating and balancing tricks. Also, a long-time chess and puzzle enthusiast, Alex coaches the chess team at Nyack Highschool (Nyack, NY), is faculty advisor for the Nyack Highschool Puzzle Club, is the founder and President of the Rockland County Chess Club, and is a certified US Chess Tournament Director.  His current United States Chess Federation (UCSF) rating is 1900, and he hopes to break 2000 before his children beat him to it. Alex is passionate about creating community and fostering multi-generational connections through the joy of chess.