Two Nocturnes, Opus 55 (1842-44)
         No. 1 in f minor, Andante
No. 2 in Eb major, Lento Sostenuto
Sonata in B minor, Opus 58 (1844)
         Allegro maestoso
Scherzo: Molto vivace
Largo
Finale: Presto, non tanto; agitato
Notes on the program
The two late nocturnes in Chopin's Opus 55 are a study in contrast.  The first, in F minor, is cool and restrained, expressive in its simplicity; the second, in E-flat major is heated and passionate, expressive in its complexity.
Chopin's third and final sonata was written during a time of advancing illness. Weak and often suffering, he composed what for me is the perfect Romantic sonata. The first movement, rich in melody and original harmonies, is also full of brilliant counterpoint. The expressive flow is so natural and spontaneous that it's easy to miss how ingenious the formal structure is. The scherzo features a witty perpetual motion in the outer sections and a contrasting middle section in four-part harmony. The slow movement, also in ternary form, is stately and heartbreaking. The finale belies the image of the composer as weak and hyper-sensitive. It is a robust, surging, virile, even militaristic — a call to arms.  Its Slavic-accented theme is a reminder that for Chopin, the cause of Polish independence was paramount.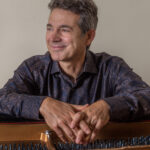 Aleck Karis has performed recitals, chamber music, and concertos across the Americas, Europe, Japan, and China. As the pianist of the new music ensemble Speculum Musicae he has participated in over a hundred premieres and performed at major American and European festivals. His appearances with orchestra have ranged from concertos by Mozart, Beethoven and Chopin to those of Stravinsky, Messiaen and Carter.  His seven solo discs on Bridge Records are: Chopin/Carter/Schumann, Mozart, Stravinsky, Cage, Feldman/Webern/Wolpe, Poulenc, and most recently, Debussy. His two discs on Roméo Records are Music of Philip Glass and Late Chopin. He has studied at the Manhattan School and Juilliard, and his teachers include William Daghlian, Artur Balsam and Beveridge Webster. He is a Distinguished Professor Emeritus of the UC San Diego music department.