A Recital of Folk Tunes Re-Imagined for the Concert Harp
Join harpist Sophie Graf for an evening of folk and quasi-folk music as re-imagined for the stage by virtuoso harpist-composers. Tunes will include The Colorado Trail, Granada, and the Carnival of Venice ("My hat, it has three corners") and others arranged by harpist-composers such as Marcel Grandjany, Carlos Salzedo, and Wilhelm Posse.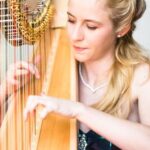 Sophie Graf is a winner of four solo competitions in an eighteen-month span. She is a rising presence as a harpist in classical music. This talent extends to her orchestral playing, which includes performances with the Pittsburgh Symphony Orchestra, the La Jolla Symphony Orchestra and the national tour of the Broadway production of The King and I. She gained international acclaim as a soloist in Hong Kong in September 2017. She graduated from Duquesne University in 2016 with a Bachelor of Music degree and from Carnegie Mellon University in 2018 with a Master of Music degree, both under the tutelage of Gretchen Van Hoesen, the principal harpist of the Pittsburgh Symphony Orchestra. Sophie currently resides in San Diego, performing with local community orchestras and for weddings and events. She particularly enjoys playing chamber and orchestral music in order to intimately connect with her fellow musicians to create a work greater than its parts, which can then profoundly impact the audience.