Miles Graber received his musical training at the Juilliard School, where he studied with Anne Hull, Phyllis Kreuter, and Hugh Aitken. He has lived in the Bay Area since 1971, where he has developed a wide reputation as an accompanist and collaborative pianist for instrumentalists and singers. He has been associated with numerous solo artists, as well as with such ensembles as the San Francisco Chamber Soloists, Midsummer Mozart, the Oakland-East Bay Symphony, Oakland Lyric Opera, and the San Francisco Camerata. He is a member of the chamber groups MusicAEterna, GGR Trio, Alcyone Ensemble, the Sor Ensemble, Mira Trio, and the new music group Sounds New. He has accompanied master classes of Midori, Joseph Silverstein, Nadja Salerno-Sonnenberg, Pamela Frank, Alexander Barantchik, James Galway, Lynn Harrell, Yo-Yo Ma, Robert Lipsett, Ronald Leonard, Leon Fleisher, Alisa Weilerstein, Jeanne Baxtresser, Paula Robison, and Kim Kashkashian. He has been a frequent performer with members of San Francisco Symphony, San Jose Symphony, Berkeley Symphony, California Symphony, Santa Rosa Symphony, San Francisco Symphony Youth Orchestra, Oakland Symphony, Oakland Symphony Youth Orchestra, UC Berkeley Symphony, and members of the faculty at the San Francisco Conservatory of Music. Mr. Graber is a staff accompanist at the San Domenico Conservatory in San Anselmo, California, the San Francisco Conservatory of Music, and Northern California Flute Camp in Carmel Valley. Other accompanying posts include the Mondavi Center for the Arts Young Artist Competition, the Irving M. Klein International String Competition, and the Summer Brass Institute.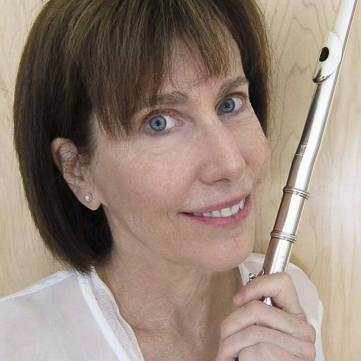 Martha Aaron's professional career began with her appointment as principal flute of the North Carolina Symphony, after which she played with the Cleveland Orchestra for 25 years. After becoming a freelancer in 2006, she performed often with the Philadelphia Orchestra. During this time she also appeared as guest principal flute with the Metropolitan Opera, Minnesota Orchestra, Milwaukee Symphony, San Diego Symphony, Baltimore Symphony, Mostly Mozart Festival, Jakarta Sinfonia, and the World Orchestra for Peace. Ms. Aarons served as Artist Faculty with the Aspen Music Festival for 19 years and has played in the Grand Teton Festival as well. In May of 2015, she participated in the Cubadisco music festival in Havana, Cuba. She has been soloist with the Cleveland Orchestra, North Carolina Symphony, Aspen Chamber Symphony, and Ohio Chamber Orchestra. In 2003 Ms. Aarons performed the Aspen Music Festival premiere of the Flute Concerto by Christopher Rouse. Her CD, The History of the Tango, is recorded on the Azica label. It additionally features pianist Frances Renzi and Grammy-winning guitarist Jason Vieaux.
At age 21 Lev Polyakin, violin, was appointed co-concertmaster of the Moscow Chamber Orchestra. In that position he was regularly featured as soloist, with many of his performances recorded by Melodia. In the U.S. he served as assistant concertmaster of the Cleveland Orchestra, as well as concertmaster of the American Academy of Conducting in Aspen Music Festival. In 1984 Lev won several prizes in two international violin competitions, Carl Flesch in London and Romanini in Brescia, Italy. In addition to his solo performances with the Moscow Chamber Orchestra, Mr. Polyakin has appeared as soloist with the London Mozart Players, Royal Philharmonic, and Cleveland Orchestra. Recording credits include Melodia, BBC, National Public Radio, and Decca. He is prominently featured on a CD of the chamber music of Paul Schoenfield, which was nominated for a Grammy. Mr. Polyakin has a special interest in jazz and has recorded three CDs with his group "Russian Blue." The albums are entitled Russian Blue, The Other Side of the Road, and Christmas Kaleidoscope.