Ella y El Rey
This is a program of popular songs composed and sung by José Alfredo Jiménez, one of the great Mexican singers who died fifty years ago. Elena Durán and Edgar Ibarra  have raised this beautiful music to the level of chamber music in order to bring it to a wider audience. They have been invited to present this program at the prestigious Cervantino Festival in October in Guanajuato, Mexico, in its 51st edition, one of the most important and largest performing arts event in Latin American.
Elena Durán, flute & Edgar Ibarra, piano
"ELLA y EL REY"
The music of José Alfredo Jiménez
El Jinete
La Media Vuelta
Me Estás Mintiendo (JAJ Jr)
Cuando Sale la Luna
Ella
Serenata Huasteca
El Siete Mares
Si Nos Dejan
El Rey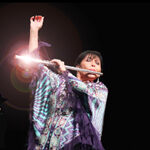 Elena Durán grew up in Oakland, California and has enjoyed an international career, appearing as soloist with more than 50 orchestras all over the world, playing on a number of occasions for the Queen of England, HM King Charles as well as the President of Mexico. She has recorded a hit single with Paul McCartney and has made two albums with jazz great Stephane Grappelli. At various stages of her career, she has taught at University and Conservatory level including at Stanford University, the London College of Music, the Royal Birmingham Conservatoire and the Hartt School of Music. She has given masterclasses and courses all over the world and was the director of the Stratford International Flute Festival for twenty years and the Mexican Flute Festival at UNAM for five years in the nineties. She was named Mexico City's Ambassador of Culture and Tourism, and with her personal outreach program FLAUTA SIN FRONTERAS, she has taken music to those who can't attend concerts, especially those in prison and those who live along the US/Mexico Border. Elena is a passionate supporter of the Ranch's Fundación La Puerta bringing her programs to the local community.

Born in Mexico, Edgar Ibarra studied with the distinguished teacher Arnoldo Paredes Cuesta. In addition to classical music, he has a special interest in Jazz and in 2009 won the Fine Arts Award – Jazz Piano from the Interlochen Center for the Arts, in Michigan.  In 2007 he started the group Jazz Subtilior with whom he has performed on different stages in Mexico.  With his Edgar Ibarra Jazz Trio he has performed in several halls in Mexico as well.  With renowned flutist Elena Durán, Edgar has performed many recitals, both Classical and Jazz.  During 2016 and 2017 he was a beneficiary of the Bellas Artes Opera Studio, Fonca-INBA, where he was selected to participate in the Festival of the Egean, in Syros, Greece, conducting Mozart's Don Giovanni and performing in several recitals. In the musical theatre scene in Mexico, he performed in the play Master Class and served as musical director of Mentiras, Man of La Mancha, Hello, Dolly! and Grease, for which he also wrote the arrangements.  He was also musical director of Songs for a New World, produced by Playhouse Entertainment, and vocal director of Daddy Long Legs, produced by Oak Live.