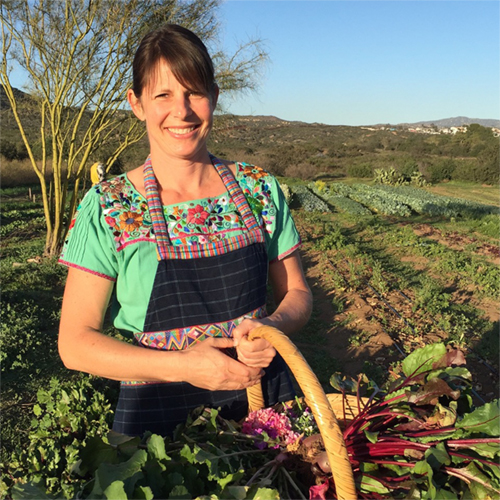 Sara Polczynski is also the owner of Sabor Imports, a small business specializing in sourcing the highest quality chef-driven food products from Mexico. All of our products are sourced from the best producers throughout Mexico.  Each product has been hand crafted or harvested with such passion and attention to detail so that your culinary creations will tell a story.  Products are distributed to renowned chefs across the US and also available online at saborimports.com
Sara's love for teaching on the job led to a part-time career of teaching in the classroom. A culinary educator since 1999, Sara currently holds the position of Associate Professor for the Baking and Culinary Arts programs for San Diego Community College – Continuing Education. It is the largest vocational training program of it's kind in the US.
Over the years Sara's love for cooking began to expand along with her love of travel. Inspired by the family food stories of her Mexican kitchen colleagues and the early teachings of Rick Bayless on his PBS television series, an opportunity arose that changed her career path and life forever and helped shape the style and flavor profile of her cuisine.  It was the beginning of an annual journey to travel and learn about regional Mexican cuisine, art and culture with influential chef mentors including Rick Bayless, Ricardo Munoz and Susana Trilling.  Her most recent restaurant project utilized the knowledge, passion and techniques of authentic regional Mexican cuisine was as the Consultant Executive Chef for The Blind Burro in San Diego.  Bringing authentic Mexican cuisine with a modern California flair to the people of San Diego was a dream project.  Always trying to be connected to the rich culture and foods of Mexico has afforded her the opportunity to teach hands-on cooking classes at the world-renowned Rancho La Puerta in Tecate, MX, utilizing fresh produce grown on their on-site organic farm.
We offer a 3.5-hour long demo class on Tuesdays at 4:00PM for $95.00 + tax.