Join us for a foodie adventure during Culinary Week, July 22 to 29, 2023, where we'll celebrate the vibrant flavors of Baja California cuisine. Using the freshest organic produce, talented chefs will prepare dishes that showcase Mexico's rich cultural heritage and traditions. From savory seafood to spicy salsas and organic produce, you can savor the bold and complex flavors that make this cuisine unique. You'll have the chance to learn from expert chefs and explore our beautiful organic garden that produces the ingredients for our delicious meals. Join us for an unforgettable, five-star week of gastronomic excellence, fun, and community! Learn More. 
Featured Chefs:
Drew M. Deckman, Deckman's en el Mogor
Cody Requejo, FIISH
Martín San Román, El Original Pastel de Crepas Bistró
Iker Turcott, Vinos Terra Turcott
Marcelo Hisaki, Restaurante Amores
Reyna Venegas, La Cocina Que Canta and Rancho La Puerta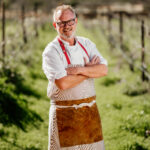 Dynamic and outspoken Michelin Star chef Drew Deckman continually strives to run a zero-kilometer, sustainable, community-based restaurant, Deckman's en el Mogor, with a kitchen that is completely outside and is solely fueled by wood and natural elements, and where the majority of ingredients come from the ranch or nearby sea. His food is a combination of intricately composed plates and rustic elegant dishes. The guiding force of Chef Drew is sustainability. At his restaurant, he is 100 percent committed to the advancement of sustainability and renewable local farming, fishing, and ranching – from planting, harvesting, transporting, preparing, and recycling. The restaurant has also been named to the list of San Pellegrino 50 Best Discovery. Deckman earned his culinary skills under Gastro-master chefs Paul Bocuse and Jacques Maximin, and mentoring by star teacher and author Madeleine Kamman. He has been a chef throughout Europe and earned a Michelin Star in Reinstorf, Germany until 9 years ago, when he chose a large pine tree in the middle of a ranch and vineyard, in a remote valley in Baja California, Mexico to put down his roots. @deckmansenelmogor, @bajafishingchef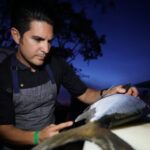 Sometime in the mid-80s, Chef Cody Requejo had his first sushi meal experience. What followed was an obsession that has turned into a full-fledged career for the past 3 decades. At 18, he quit a college culinary program and knocked on his favorite sushi joint's backdoor hoping for an opportunity. An apprenticeship was offered and immediately he accepted. For several years he honed his skills, learned the ins and outs of Japanese restaurant culture, fish selection, and butchery, and eventually made his way behind the sushi bar. From there his career continued to grow, and in 2002 he opened his first restaurant, Tuna Town in downtown Huntington Beach, CA. There, he met Van Vu, who would later become his wife and business partner. In 2012, Chef Cody and Van invested in Roe Seafood and Fish Market in Long Beach, California, where Chef Cody's passion for sustainable aquaculture began, as wild capture was expensive and difficult to source. In 2016, a new form of distribution was created that incorporated telling the story of sustainable aquaculture products coming out of Baja. Now, Chef Cody works for the Baja Kanpachi farm, Omega Azul, as their chef, brand ambassador, and sales strategist. He also recently opened FIISH in Culver City with his friend Chef Colin Whitbred. The pair share a passion for sushi, sustainable aquaculture, and sourcing local fish whenever they can.
@chefcodyrequejo, @fiish.food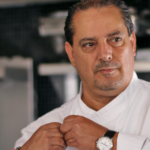 Chef Martin San Roman brings a vast array of international culinary experience and creativity to his craft. Born in Mexico City, he graduated from L'Ecole Lenôtre in Paris, France. His experience in Fauchon and Le Meridien Hotels in Paris, the London Hilton, and the San Diego Westgate led him to his role as chef-owner of Tour de France and Rincon San Roman, both in Tijuana, Mexico.
His cooking show with the Televisa Network ran for eight years with a strong following on both sides of the U.S. – Mexico border. San Roman has traveled the world representing Mexican classic and modern cuisine in Belgium, Canada, Chile, Costa Rica, England, France, Germany, Guatemala, Japan, Russia, Singapore, Spain, Switzerland, and the United States, and he has received more than 250 awards from 12 different countries.
He was head chef in charge of gala dinners for the Mexican Presidency at the World Economic Forum in Davos, Switzerland, a member of the Mexico Culinary team in the "Bocuse d'Or" World Cuisine Contest, known as the "World Cup of Cooking Competitions," Guest Chef Instructor for the European Commonwealth chefs in Brussels, Belgium, and team adviser for the Culinary Olympics in Erfurt, Germany. Chef San Roman is a member of Mexico's Vatel Club; Academie Culinaire de France; Societe des Cuisiniers de Paris, and the American Culinary Federation. He was spokesperson for Tijuana Innovadora in 2012. @eloriginalpasteldecrepas, @chef.martin.san.roman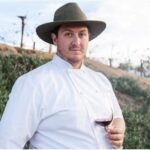 Chef Iker Turcott is a graduate from "Universidad del Caribe" in Cancún Quintana Roo, with a degree in culinary arts.
He made his way in the world of gastronomy, working in different restaurants in Cancún and in other parts of México. He had the opportunity of making internships in Valencia, Spain, at the restaurant "La Sucursal" a two Michelin starred restaurant.  He also became head chef at the restaurant "La Cuizine" in Paris, France.
Upon his return to Mexico, he made the decision to dedicate his life to the arts of wine.
Iker arrived in the city of Ensenada, Baja California in June 2012, with the desire to learn how to make wine and thus, developed his own brand of wine.
He entered "La Estación de Oficios Porvenir" where under the tutelage of one of the best winemakers in the country, he learned about this beautiful art of wine making. At the same time, he worked as a sommelier at the renowned Mexican winery L.A. Cetto. He also graduated as a sommelier from Culinary Art School Tijuana.
Today he is the winemaker and owner of "Vinos Terra Turcott" and also chef-owner of "La Doble T, Cocina Sabrosa" in Valle de Guadalupe.
Born in Mexico City to Japanese parents, Chef Marcelo Hisaki grew up surrounded by a diversity of flavor, texture, color, and tradition that combined both Japanese and Mexican culinary heritage.
At an early age, his talent and discipline led him to earn a scholarship from Fondation Turquois Monaco to study French cuisine at the Lycée Hotelier de Monte Carlo and train in Michelin-starred restaurants Yoshi and Joël Robuchon, in Monte Carlo, Monaco.
In 2013, Chef Marcelo and his wife Chef Reyna Venegas opened Restaurante Amores in Tecate, Baja California. Their culinary concept is influenced by Mexican, Japanese and French cultures, using local produce with respect, love, and creativity.
He recently represented Mexico in the Bocuse d'Or Finale 2023, a prestigious culinary contest in Lyon, France, receiving the social commitment award as a recognition to his team's involvement in support of migrants' food insecurity in Baja California. Read more here.
He currently works as a mentor and teacher for new generations of culinary professionals at Culinary Art School and collaborates in the development of BRECHA, the first Mexican culinary innovation and research center. @restauranteamores, @marcehisaki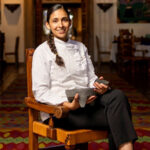 Executive Chef Reyna Venegas prepares fresh and delicious food that energizes, inspires, and nourishes guests. She fuses the culinary and cultural heritages of her own Northern Baja roots with the nutritious "spa cuisine" pioneered 80 years ago by Rancho La Puerta co-founder Deborah Szekely. At La Cocina Que Canta, "The Kitchen That Sings," Chef Reyna teaches healthy eating as a celebration of life in farm-to-table cooking classes.
As a lifelong learner, Chef Reyna attends the University of California, San Diego's Integrative Nutrition program, which focuses on how food promotes wellness.
She is also a graduate of the Culinary Art School in Tijuana, and holds a Pastry Degree from the Lycée Technique et Hôtelier de Monte-Carlo and Fondation Turquois.
She recently collaborated as manager of Team Mexico on their way to the Bocuse d'Or Finale 2023, ensuring the return of Mexico to the prestigious contest after 11 years.