Dr. Sabrina Falquier offers two talks:
Understanding Foods that Are Delicious and Also Fantastic for Your Body
How to Ground Yourself during the Holidays and Beyond with Pillars of Wellness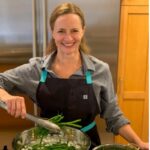 Sabrina Falquier, MD, CCMS, DipABLM, is a board-certified internal medicine, culinary medicine and lifestyle medicine physician. She is bilingual and multicultural, born and raised in Mexico City to Swiss and American parents. This unique multilingual and multicultural perspective has shaped her work tremendously, as she has seen and experienced that our unique backgrounds, culture, taste, cultural experiences and historic expectations shape our health tremendously. Dr. Falquier worked as a primary care doctor for a prestigious multi-specialty group in San Diego, California, for over 15 years, in 2020 founded Sensations Salud, which focuses on awakening the senses around ingredient acquisition and food preparation while empowering people to better health through nutritional knowledge and culinary literacy by way of culinary medicine education and consulting. She is the host of Doctors+podcast, is the vice chair of the board of Olivewood Gardens and Learning Center and the chair of the Culinary Medicine Specialist Board. She is also clinical professor at UC San Diego Health Sciences and adjunct professor at Bastyr University. Dr. Falquier promotes culinary medicine throughout San Diego and internationally in a variety of ways and to varied age groups and audiences. Her work can be seen through the powerful documentary: The Kitchenistas. She has been interviewed regarding food and health by media outlets including the Washington Post, The Union Tribune, Edible San Diego, San Diego Magazine, CBS news, and TeleMundo. Additionally, she was recognized yearly, from 2009-2020, as one of San Diego's Top Doctors. For more information, please visit her website, or follow along @SensationsSalud on social media.