Everything You Always Wanted to Know About Olive Oil
A PowerPoint presentation weaving my own 25-year history of farming olives in California with the facts on how to properly select, store and use Extra Virgin Olive Oil. An overview of the Mediterranean Diet (which I prefer to call "Lifestyle"–who wants to be on a diet?" and why healthy fats are important. We will review recent studies completed in cooperation with the Yale School of Medicine International Olive Oil Symposium
Become An Olive Oil Expert In 45 Minutes
Guests each taste from a "pallet" of 12 different, organically grown and produced, varietal Extra Virgin Olive Oils, learning how to discern fresh olive oils, terroir (different finishes of olive oils) and details on how to create a healthier lifestyle using olive oil instead of dairy products as a "healthy fat" in our diet. Each guest will go home with an informational guide and useful, easy recipes they can use at home for cooking and baking with olive oil.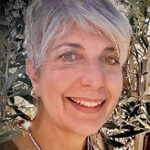 Theodora (Theo) Stephan was the first to plant olive trees in Santa Barbara County, California, for Extra Virgin Olive Oil (EVOO).  She is celebrating her 25th harvest season this year and was awarded "Olive Oil Sommelier" (one of less than 300 in the world) in 2019. Theo's brand, Global Gardens, offers over twelve different varietal EVOO's, 20 hand-crafted balsamic-style wine vinegars, organic snacks and a myriad of pantry items made from her formulas. She was the first in the US to create an olive oil subscription program. Her oils have received recognition in the New York International Olive Oil Competition's "Best Olive Oils of The World."  The Los Angeles Times has labeled Theo, "California's Olive Oil Guru."   Educating people on the nuances of cooking and baking with fresh olive oil is a great passion of Theo's. She specializes in creating a full-flavored Mediterranean Diet which she prefers to call a Mediterranean Lifestyle. She has written two popular cookbooks and has been featured prominently in the Los Angeles Times, Sunset Magazine, Better Homes and Gardens, Food and Wine, Bon Appétit, Mother Earth, Home and Family TV show, Oprah, Martha Stewart blogs and many more. Follow her on instagram @globalgardens.