Finding Monarchs!
Suzanne Clarke will present a PowerPoint program about her trip — "a dream of a life time" — in search of the Monarch Butterflies in the mountains of Michoacán where the monarchs spend their winters. Come and travel vicariously as Suzanne tells us what she learned along the way about the places, people, horses, and of course the elusive Monarchs she met along the way.
Transformation of an Urban Garden into a Wildlife, Sustainable Habitat
What happens if your newly purchased home doesn't have your "dream" garden when you move in? That happened to me.  Ten years ago, I moved into a Victorian home in downtown Petaluma, California. with a dark back yard full of crabgrass, raging oxalis, deformed ornamental plum trees, and boxwood. Could I really convert this land into a sustainable and wildlife habitat with attractive, low-water use plants, drip irrigation, a 1500 gal. underground rainwater catchment system, and a grey-water system in a reasonable time and cost?   Suzanne Clarke will share some of her successes (and mistakes!) to convert her garden into a small urban oasis for native insects with color all year round and one that directs its rainwater to slow down, spread out, before sinking into the ground for future use.
My Life in Zimbabwe
April 1980 – January 1985 — Rhodesia becomes Zimbabwe. Suzanne Clarke with her two young sons accompanies her husband, Jonathan, a British diplomat, into an environment fresh from civil war. Suzanne will give you a flavor of her family's life during their five years in this new democracy. She will explain her role in the creation of the Greendale Community Center with its preschool, adult literacy classes, and women's club for its indigenous citizens. This Community Center is still around today — 40 years later.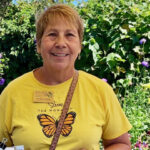 Suzanne Clarke has been a gardener all of her life, beginning when she first helped her grandmother pick peonies for the cemetery for Memorial Day when she was a youngster. She has lived and gardened with her husband and three children in Germany, Taiwan, England, Zimbabwe, as well as on both the east and west coasts of the United States.
Suzanne lived in the Washington, DC area for over 30 years where she was an elementary school teacher. Suzanne started each school year by harvesting Monarch eggs and caterpillars from the milkweed found in her garden for her pupils to observe and marvel all of the stages of metamorphosis. Suzanne's gardens in Washington, DC and in St. Michaels, Maryland were "Way Stations" for Monarch Watch. Her garden is in Petaluma is now a Monarch Way Station.
In 2008, Suzanne became a Master Gardener in Maryland, specializing in wildlife habitat; Integrated Pest Management; and Storm-water management.
After moving to Petaluma, California, in Sonoma County, in 2012, Suzanne took the training again to become a Master Gardener. Again, Suzanne's main passion is to share her passion for saving habitats for butterflies and other pollinators. Suzanne has been "fostering" butterflies and monitoring the flight of Monarchs for Monarch Watch for twenty years. She is a member of the Western Monarch Thanksgiving Count for the Xerces Society.
Follow her on Facebook at @SonomaCountyButterflyAlliance