This class is for anyone who wants her forties and beyond  to feel like a continuation of her thirties.
As you've become more accomplished in work + life, you're unwilling to sacrifice your health and wellbeing. And you're coming to see that it's all about being smarter and more intentional in your choices: movement included.
Here's a program that lets you accomplish just that.
Through a series of centering, efficient, and easy-to-do movement lessons, re-discover joyful freedom of movement in all directions.
We'll focus on the essential body points for a dynamo like you.  [Because, if you're honest, it's dawned on you that your twinge, pain, or fatigue isn't going away on its own.]
You'll be able to:
Relax your trapezius, upper back, and neck tension from time on your laptop.

Release stiff hips and lower back to make sitting at your desk easier.

Lengthen tight hamstrings so you can rock your spin class or hikes up Mt. Kuchama.

Free your tight shoulders to improve your beloved down-dog in yoga.

Unwind a clenched jaw.

Undo fatigue from toting kids, groceries, or even helping out your parents
Head back home with a renewed body awareness–and a repertoire of new movement habits–that will make everything on your full to-do list easier and sweeter, including your favorite yoga, pilates, and lively activities with family and friends. And, the best bliss of all, enjoy a beautiful night's sleep because the Fit + Free method creates freedom of movement while quieting your nervous system.
You'll love these proactive tools + approach to elegant movement, vitality, and owning it while feeling wonderful in your skin.
Fit + Free is based on the principles of the Feldenkrais movement method.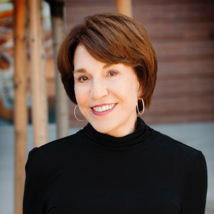 Carolyn Garfinkel, Guild Certified Feldenkrais Practitioner® with an active practice, knows that fluid movement and a long lean carriage keep you feeling young and fit. She is based in Studio City, California. For the past twenty years, Carolyn has enjoyed bringing the benefits of Feldenkrais to a wider audience, including Rancho La Puerta Spa, the Multiple Sclerosis Society, the Disney Cancer Center at St. Joseph's Hospital in Burbank, CA and the Los Angeles Cedar Sinai Hospital's Feldenkrais Expo. She's a devoted student of yoga and a certified teacher of the Sounder Sleep System®.
Carolyn's grateful for the year-round opportunities for movement and getting outdoors that Southern California offers, and loves attending live performance, especially opera, symphony, and dance.
Carolyn Garfinkel
Guild Certified Feldenkrais Practitioner
Certified Sounder Sleep Teacher