In four participative sessions learn more about your own charitable motivations. Clarify what inspires you and focus the impact you and your family can have through giving and service in your communities.
What's Your Philanthropic IQ?
What is philanthropy anyway, and why should you care? It's not how much you give, but your impact that matters. Do you know why you give and the best ways to select the organizations you support? What's going on in philanthropy in the US and the world? Come with questions and leave with a personal philanthropic mission. (In subsequent sessions you can draft your personal/family giving plan.)
From Donor to Philanthropist in One Simple Step
A gift is a transaction that makes you a donor. Philanthropy is a way of life and a lifetime of giving. Reviewing all our family giving was a revelation. We realized that we wanted to focus on giving outcomes rather than individual gifts. So, we drafted our own philanthropic plan that enabled us to have more effect over a broader span of time. It has also provided opportunity to plan for those special stretch gifts. Try it. You might like it!
Teach Your Children to Love Giving
Do you remember your first act of philanthropy? How old were you? What inspired you in that moment? Do the young people in your life know the joy and value of sharing abundance with others?  What are some steps you can take to help your loved ones enhance their lives through expanding their compassion for their neighbors? As you plant the seeds of a culture of philanthropy in your circles, imagine the multiplier effect of all the giving you might engender in coming generations.
Make a Difference
Getting to know our communities, the recurring needs, and participating with the organizations that strive to meet those needs helps keep our brains and hearts fit and lively. Assessing ways we can be of value is a noble pursuit that can begin at any age and ebbs and flows with your life abilities. Through selected examples, we will review many aspects of philanthropic involvement, how our strengths and the expectations of community organizations may or may not mesh well, and what to do about it.
Don't let lack of knowledge or experience stand in the way. You can make a difference!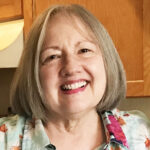 Jane Scheidecker, MBA, CFRE (retired), began her fundraising career as Associate Dean for Development at the University of Oregon. This work came after hoeing sugar beets, loading heavy petroleum products in railcars, playing clarinet and oboe in woodwind quintets, roofing houses, and teaching Spanish, French, and English to college and high school students, among other work and play. Through the years, Jane learned to relate to and learn from people in all walks of life.
She spent 30 years uncovering donor passions to support projects while bringing joy to the giver and the recipient. She created fundraising teams, led capital campaigns, raised endowments, and opened philanthropic doors for universities, community colleges, and other non-profits supporting donors' impacts in a variety of worlds that were important to them.
"I hate to beg for money. I would rather walk over cut glass barefoot," people would say when Jane would tell them she was a professional fundraiser. But her focus was not begging. The questions Jane asked were, "Do you want to leave the world a better place? What are your hopes for your children and nieces and nephews and grandchildren and godchildren? How can each of us help create the world we envision to bring joy and abundance to all?" Revealing the answers has been a labor of love.
Jane's interactive workshops at Rancho La Puerta will help you find that joy and create a plan for involving your families so coming generations will value, understand, and delight in their philanthropic options and the impact they can have in communities that matter to them.