GYROKINESIS® exercise is a complete movement system, for all levels and ages, and can be applied to a variety of situations, as one needs very little equipment. It incorporates many key principles from yoga, dance, gymnastics and Tai Chi. The class begins with the practitioner seated on a low stool and begins with simple breathing patterns to awaken the body. He or she mobilizes the spine and joints through a series of arching, curling and spiraling movements. The corresponding breathing patterns in every movement help to stimulate the nervous system and open up energy pathways. Rhythm, movement, & breath are the key elements of this system accessible for all fitness levels.
GYROKINESIS®
Sun-Fri, 11:30am, 60 min.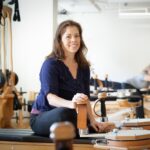 Dr. Justine Bernard, a Washington DC native, moved to NYC to train on scholarship at the Alvin

Ailey

American School of Dance after graduating from Indiana University with a BA in Political Science and African American Studies. While dancing she sustained a back injury leading her into a deep study of the
GYROTONIC®
method and became an instructor in 1997.
In 2003, she received her Doctorate in Physical Therapy from Columbia University, College of Physicians and Surgeons.
Justine continued her studies and became a
GYROKINESIS®
and
GYROTONIC®
Master Trainer and created the
GYROTONIC®
application for the Osteoporosis course in 2008.
She is the owner of  Elements Fitness and Wellness Center in Washington DC.