The Art of Herbal Medicine
Learn the basics of how herbs can support your health and well being, in both food and medicinal forms. Herbalism is the oldest form of medicine and every culture has its version, discover how you can incorporate botanical remedies into your daily life using a variety of methods from this traditional approach.
Botanical Support For Digestive Health
Healthy digestion is the foundation of wellness and herbalists use a range of herbs to offer support. If you are curious to learn how to calm inflammation, release tension, move stagnant energy, and heal the gut, then taking a look at what and how we eat is key. We'll discuss the importance of bitters, aromatics and prebiotic herbs and delicious ways to use them.
Herbs For Happiness, Stress Relief & Sleep
Life's challenges can leave us with frazzled nerves and sleepless nights. Herbal medicine and nourishing foods can support the body to remain calm and centered during the day, and, if necessary, offer sleep support at night. This class is filled with delicious ways to use botanical medicine to bring the body into balance, reconnect with our inner joy, and let go of tension to receive the nourishment of deep rest.
Botanical Allies For Immune Support
Learn the traditional ways that herbalists have used plant medicines to strengthen the immune system and support the body to fight off pathogens. We'll discuss the herbs, funghi and nutrient dense foods that could be allies for our current times, and creative ways to use these ingredients for internal and topical use.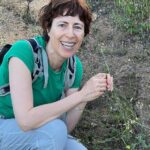 Dawn Petter is a clinical herbalist and flower essence practitioner based in New York City. She is a graduate of Arbor Vitae School of Traditional Herbalism and is trained as a flower essence practitioner with Delta Gardens and Findhorn Essences. Dawn offers in depth consults by appointment, and teaches classes and retreats at Corporations and institutions including, the NY and Brooklyn Botanic Gardens and Brooklyn Grange, to name a few. She is also the owner of Petalune Herbals which specializes in herbal skincare. Her classes are imaginative, accessible, and encourage students to use herbal medicine in every day life. Visit www.petaluneherbals.com to learn more about her offerings, and follow her on social media @petaluneherbals