The Cardenes-Mead family presents a festive concert of classical favorites from Chopin's Polonaise to Tchaikovsky's "Nutcracker."
Andres Cardenes, violin
Isabel Cardenes, harp
Tino Cardenes, piano
Monique Mead, violin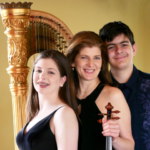 Monique Mead
Violinist, Monique Mead is recognized internationally as innovative performer, presenter, and educator. Whether performing at the Berlin Philharmonic Hall, a preschool, or the top of Mt. Kuchuuma, Monique creates unique musical experiences that spark insight and foster connection.  For over 20 years, she has toured with major German orchestras such as the Bavarian Radio Orchestra, Cologne Philharmonic, and the Berlin Radio Orchestra, presenting interactive concerts and appearing on German radio and television series.  She serves as Director of Music Entrepreneurship at Carnegie Mellon University where she also teaches violin at the Preparatory School.  She enjoys performing with her talented teens, Isabel and Tino.  Visit website.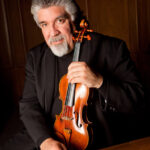 Andres Cardenes
Grammy-nominated Andres Cardenes parlays his talents as a soloist, conductor, violist, concertmaster, and chamber musician into one of classical music's most versatile careers.
Since capturing the Second Prize in the 1982 Tchaikovsky International Violin Competition in Moscow, Mr. Cardenes has appeared as a soloist with over one hundred orchestras on four continents, including those of Philadelphia, Pittsburgh, Los Angeles, Moscow, and St. Louis. Chosen by Lorin Maazel to be his concertmaster of the Pittsburgh Symphony, Andres Cardenes spent 20 years with the orchestra working with the world's greatest conductors, including Mariss Jansons, Charles Dutoit, and Manfred Honeck.  For over 30 years he has taught as Distinguished Professor of Violin at Carnegie Mellon University.  Visit Website
Isabel Cardenes, age 17
Harpist, Isabel Cardenes, has been immersed in music her entire life, taking in the sounds of the Pittsburgh Symphony and traveling with her parents to concerts and festivals throughout the U.S. and Europe. Isabel was recently invited to perform on NPR's nationally acclaimed show, "From the Top," featuring America's finest young talent.  In June, 2019 she won third prize at the American Harp Society National Competition in South Carolina. She spent the past two summers attending the Interlochen Arts Camp in Michigan. With a strong interest in music for healing, Isabel and her mother have developed "Music in the Moment," an integrated program of music and mindfulness. Visit website
Tino Cardenes, age 15
Tino Cardenes, age 15, is a versatile classical and jazz pianist. He made his concerto debut in Germany at age seven and has since performed as a soloist with the Neue Philharmonie Westfalen, Culver City Chamber Orchestra and the Edgewood Symphony in Pittsburgh.  In 2018, Tino won first prize in a piano four-hands competition at the Cleveland Institute of Music.  He has spent the past 5 summers attending music camps in Prague, Bavaria, Olympic National Park, and Interlochen Arts Camp in Michigan.  As a collaborative pianist, Tino toured with his mother, Monique Mead in 2019 to bring 50 performances of the Beethoven Violin Concerto to people who—like the composer–live with adversity. Aside from music Tino is passionate about computer science, languages, and comedy.