I Can't Draw and You Can Too!
I have a secret to tell you. Right now, you already have all the skills you need to make sketch a satisfying life-long practice. Join me to see for yourself the habits you can develop that will make this practice an on-going part of your life.
You'll find that a drawing practice does more than fill scrap paper and sketch books with random images. It will give you a method to see things in a new way, and a habit of being more present to your surroundings. Like a puzzle, a game, or sports, sketching keeps you grounded in the here and now. It is a practice that will enhance mindfulness and attention…and it might even improve your drawing skills.
Let's learn some simple sketch exercises that are all you need to begin a life time of drawing enjoyment and satisfaction.
CLASSES
Session One
The first step in developing a sketch practice is to learn to look more carefully. We'll take a look at various places and objects in our environment, and learn to evaluate the lines that make up what where seeing and how to render them on the page.
Session Two
Sketch Circle! For most of us there is nothing more intimidating than drawing another person. Let's throw caution to the wind, pick up our pencils and take our new found skills of observation for a spin. We'll take turns quick-sketching one another and see how satisfying it is to quick-draw people. Come on, how much can it hurt for four minutes?
Session Three
Color and proportion. Let's dip our brushes into the fun of watercolor mixing, without getting bogged down on drawing for a day. For this session, we'll look at our world, break it down into logical components, and render the objects and areas into an abstract color block form. While creating a captivating sketch, you'll experience the basics of color mixing!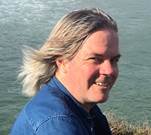 Tom Birmingham is an artist and photographer living and working in Big Sur, California. After years of being intimidated by the perceived rigor of developing drawing skills, he embarked on a sketch practice that immediately brought satisfaction and enhanced his experiences in his travels and his daily life.
Tom is a founder of the Peninsula Sketchers in Monterey, California. He teaches line and watercolor sketch around the country and on his annual Italian sketch tours.
For thirty years, Tom has taught creative expression in photography, theater, and visual arts to artists and novices, adults and children around the world.