Offered twice a day Sunday – Thursday, 11 am & 3pm, Activity Pool
Dive into a five-day progressive swim class that will have you swimming smarter, better, and faster. Designed for swimmers of all levels, Total Immersion taught by swim coach and Chiropractor, Dr. Steven Katz.
Coach Steve will begin by analyzing your stroke and then will apply small incremental corrections for skill improvement. Over the course of 5 days, you will discover an ease, confidence, and enjoyment in swimming that you never could have imagined. Spaces are limited so please be sure to register as early as possible.  Offered twice a day so max 12 people. (Sign up in lounge).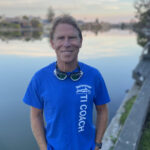 Dr. Steve Katz has been a lifelong athlete (including professional baseball) and yoga/chiropractic practitioner. His passion for mindful swimming was ignited after experiencing a Total Immersion workshop in 2015. He experienced such immediate improvement in the ease, efficiency, and pleasure of swimming freestyle that he dedicated himself to certifying as a Total Immersion coach and achieved coach certification in 2021. He believes swimming is the perfect means to safe and mindful fitness at any age.