Fall in Love With Your Life
Move out of survival mode to step boldly into your very best life.
Transformation happens when we realize that there is more to this life than just getting by, one check-list at a time. In this session, you'll explore how to move out of survival mode to step boldly into the spotlight of your life with more awareness, more possibility, and more joy.
Get Rooted
What if there was more to life than logic or certainty? If we've learned anything over the last few years, it is that we need to build our capacity to navigate the ups and downs of life. In this session, you'll learn 3 ways to be more grounded, present, and focused on what matters most so that you can create a strong inner foundation.
Prioritize THIS. Not That
Focus on what matters. Set strong boundaries. You hear this all the time. But, how do you know what to prioritize? The secret is that you need to know what actually matters to you. In this session, you'll explore how to align to and embody your core values – the traits that make you uniquely YOU. .
Get Curious
When was the last time you weren't trying to change something about yourself? What if you could move out of fixing mode, not-enoughness, and past or future thinking and be guided by curiosity and compassion? In this session you'll explore the practice of identifying, naming, and investigating the stories you tell yourself. You'll make room for a new narrative grounded in your own inner wisdom and love.
Say YES to Your Aliveness
Release the past and future to create space for living your ideal life. Get out of your head and step boldly into your heart. Embrace your inner storyteller to visualize and manifest what feels most delicious in your heart. Create your own personal roadmap, guided by your inner strength and wisdom, to write the next chapter in your life.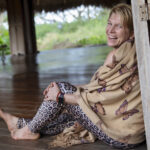 Elena Sonnino is a life coach, yin yoga teacher, and author. But what most people say about Elena is that she brings delightful sparks of energy to everything she does.
Elena is on a mission to help you transform the walls of survival mode into doors of possibility so that you can step into the spotlight of your life as your most rooted and nourished self. Her work helps you get out of your head and into your body as your source of wisdom, and moves you from beyond shoulds and into delight, one day at a time.
At home, Elena enjoys watching the sunrise, tending to her many plants, riding her Peloton bike, and impromptu kitchen dance parties.
Learn more about Elena at www.elenasonnino.com or by reading her new book, Inhabit Your Joy: A Book of Nudges.