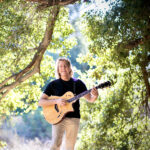 Experience a mesmerizing evening with singer/songwriter Karl Anthony in concert. As you enter, you will notice stunning laser visuals and colorful starlight filling the room.
Karl Anthony is a word-man with hundreds of poetically and passionately inspired songs. He draws his inspiration from a career of philanthropic international touring in Asia, being on staff as a Healing Arts Artist at Rady Children's Hospital in San Diego, and being a long-time guest musician at Rancho La Puerta for over thirty years.
In addition to playing guitar, he will also perform on the hypnotic and soothing Handpan Singing Drum. This unique instrument was originally invented in Switzerland and blends rhythm and harmonics to create a universal sound sculpture that balances the heart and calms the mind.
This is a potent, heart-felt evening of music, color, and light you are sure to enjoy.
Learn more about Karl Anthony at karlanthony.com