Living life in full bloom means living with hope and purpose, with imagination and vision—in a way that honors the Earth, the spirit, and one another. Elizabeth Murray encourages and nurtures each person to explore four personality attributes (Gardener, Artist, Lover, and Spirit Weaver), or pathways, that create a framework for practicing mindfulness, unleashing potential, and reviving communities. As Gardeners, readers will learn to observe and grow; as Artists, they'll discover creativity and new possibilities; as Lovers, they'll lead with the heart and commit to things they're passionate about; and as Spirit Weavers, they'll create rituals and express gratitude.
Living Life in Full Bloom
Accented with Elizabeth Murray's exquisite "nouveau vintage photography" as digital slides, each guest will become acquainted with the Four Pathways to Full Bloom with inspiring stories and practical ideas that can be tried throughout the week. The following four afternoon sessions explore each of the Pathways.
The Gardener
Intimacy with the natural world
The Artist
Deepening our creativity
The Lover
To fall in love each day – what we love, we protect
Spirit Weaver
Bringing gratitude, celebration and ceremony into each day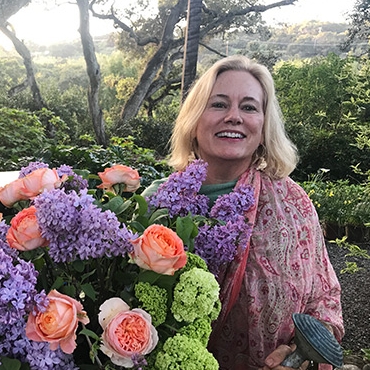 Elizabeth Murray is passionate about nature and creativity—it connects her to her soul. In all the creative work she does—her goal is to celebrate beauty, connect to spirit, and inspire others to weave a personal commitment to what they love bringing purpose and meaning into each day. In her book, Living Life in Full Bloom: 120 Practices to Deepen Your Passion, Creativity and Relationships, you will cultivate the paths of the Gardener, Artist, Lover and Spirit-Weaver in yourself, get inspired by other Full Bloomer stories and create your own Life Map. She is perhaps best known for her work helping to restore Monet's gardens and photographing them for 30 years. Her photos have traveled with Monet's paintings to eight museums and are published annually in calendars and the award-winning book, Monet's Passion: Ideas, Inspiration & Insights from the Painter's Gardens. Her passion for nature and appreciation for beauty has inspired her dedication to diverse projects around the world from remote African villages, the Amazon rain forest, Japan and various corporations. As a popular keynote speaker and workshop leader, she utilizes the beauty of her photographic images, personal stories, garden metaphors, and humor to inspire the imagination of her audience to connect with what has heart and meaning for them, and to express their own creativity in their work and personal lives. For further information visit ElizabethMurray.com