While we grow in wisdom and confidence, we also may be challenged with hot flashes, night sweats, sleep disturbances, irritability, vaginal dryness, decreased libido and skin changes. Let's discuss how to minimize discomforts, optimize wellbeing and make the most of this life stage.
Four sessions:
Thriving in the Perimenopause, Parts 1 & 2
Thriving in the Postmenospause, Parts 1 & 2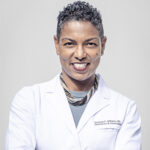 Amanda P. Williams, MD, MPH, FACOG is a board-certified obstetrician-gynecologist and strategic physician leader focused on leveraging virtual women's health care and eliminating health disparities. She currently oversees clinical innovations for the California Maternal Quality Care Collaborative at Stanford University where she is adjunct faculty. In addition, she advises multiple digital women's health endeavors. She is clinically based in the Kaiser Permanente, Northern California system, where until Summer '22 she led the maternity continuum across 15 medical centers.