Old School Skinny is a blend of full out 90s House Party energy & easy-to-follow Cardio Grooves for dancers of ALL Levels! The interactive, supportive atmosphere is centered around sharing good vibes, inspiring our community to stay active and bridging the gap between generations through music. Dig deep from your core with full body movement and a short combo to build stamina while you sing along to a handpicked playlist of throwback jams. Now it's time to party like it's 1999!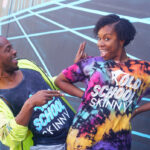 During my time on Oxygen's hit competition weight loss show Dance Your A** Off, I was featured as an on-air choreographer and dance partner. While dancing our way into the finale, I was inspired by the type of commitment and dedication my partner put into learning routines, pushing beyond her boundaries and ultimately accomplishing her weight loss goals.
That experience is the foundation for the addictive 90's groove fitness class and live stage show my wife and I created. Old School Skinny is a backyard boogie mixed with MC Hammer rehearsal that'll have you grooving everywhere you go.
Old School Skinny has been featured in LA Weekly for promoting health and happiness through dance. In addition, we've produced interactive dance performances at events for Kaiser Permanente, the Neon Run, Flash Mob America and more.
The hand-picked playlists are full of classic hits and throbbing bass beats that help release your inner Soul Train dancer!