A night of Jazz standards, originals, and choice gems from the Great American songbook featuring guitar virtuosa Mimi Fox.  Each night of music will be completely different songs so don't miss either night!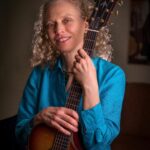 Mimi Fox, Guitar Virtuosa
Internationally renowned guitarist/composer/recording artist Mimi Fox has been named a winner in six consecutive Downbeat Magazine international critic's polls and has been recognized by writers and colleagues alike as one of the most eloquent guitarists on today's scene. In one of many feature stories, Guitar Player Magazine hailed Mimi as "a prodigious talent who has not only mastered the traditional forms but has managed to reinvigorate them." In a further nod to Mimi's guitar artistry, and in conjunction with Heritage Guitars' 30th anniversary, the historic Kalamazoo guitar company has rolled out the Mimi Fox Artist Signature model.
Mimi has performed/recorded with some of the music world's most commanding players, including fellow guitarists Charlie Byrd, Stanley Jordan, and Charlie Hunter, Grammy-nominated saxophonists Branford Marsalis, David Sanchez, Houston Person, and the late Don Lanphere, vocalists Abbey Lincoln, Diana Krall, Kevin Mahogany, and Janis Siegel (Manhattan Transfer), B3 organ masters Joey DeFrancesco, Barbara Denerlein and Dr. Lonnie Smith, and powerhouse drummer Terri Lyne Carrington. She has also shared the stage with numerous legends such as Stevie Wonder and John Sebastian. Her YouTube videos have received hundreds of thousands of views.