Join our Pickleball class and embark on an exhilarating journey into the world of this popular and inclusive sport. This class is tailored specifically for newcomers, offering a comprehensive introduction to Pickleball fundamentals and techniques.
Under the expert guidance of experienced instructors, you will delve into the basic rules, court positioning, and scoring system of Pickleball. Engaging in interactive demonstrations and hands-on practice, you will steadily build confidence in your paddle handling, shot execution, and ability to participate in exciting rallies.
Throughout the course, you will have abundant opportunities to engage in friendly games and practice drills, allowing you to apply your newfound skills in a supportive environment. Our instructors will provide personalized feedback and guidance, enabling you to refine your technique and develop effective strategies.
By the end of the class, you will have a solid understanding of fundamental strokes, strategies for successful play, and the pure joy of participating in this dynamic sport. Whether you seek a new hobby, a fun social activity, or a pathway to competitive play, our beginner Pickleball class will equip you with the skills and knowledge to embark on your Pickleball journey. For those looking to take their game to the next level with confidence and enthusiasm, our intermediate class offers advanced footwork and strategies to further elevate your skills.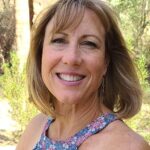 Meet Nancy Meyer, a dedicated and accomplished Pickleball instructor, coach and player. Nancy's teaching philosophy creates a safe, injury free and exhilarating experience in the world's fastest growing sport. Her ability to engage beginners, instill confidence, and foster a love for the game sets her apart.
In addition to coaching, Nancy is devoted to introducing Pickleball to new enthusiasts. She works with High School students and gives back to the community through philanthropic fundraisers for the Phoenix Children's Hospital and many others.
Whether she's coaching, playing, or giving back to the community, Nancy's contribution to the sport and the lives she touches make her a true Pickleball champion in every sense of the word.
"Discover the harmony of body, mind, and spirit at Rancho La Puerta, where Pickleball intertwines with our core values. Let the paddle be your guide as you embrace the exhilaration, laughter, and camaraderie that Pickleball brings. It's more than a sport – it's a gateway to a vibrant and active life."