Spend the week reading and writing through our inner lives. People will have the option to share writing or, as this is all about the interior, just writing and keeping it to themselves. More importantly, we will spend most of our time reading and discussing poems written by others—Emily Dickinson, Robert Hayden, Frank O'Hara, and more– each session and discussing how they work to reveal the interiority of our lives. We will talk through issues of love and marriage, mourning and grief, and making sense of our past as it applies to our present lives. We will mostly discuss how we came to be who we are, making sense of this, through great literature. Beyond all of the above, we will also leave the week understanding how to read a poem.
When I Waked, I Cried to Dream Again
A. Van Jordan will read from his latest collection of poems, When I Waked, I Cried to Dream Again, which will include images from Malian photographer Malick Sidibé, film footage from Julie Taymor adaptations of Shakespeare's The Tempest and Titus Andronicus, and his own lyric poems. When I Waked, I Cried to Dream Again. Recent review of the book from Literary Hub.
What can I learn about myself by learning how to read a poem?
Most of us know how to read prose—novels and non-fiction—because we've been shown the way throughout our lives, but most people only think of poetry as being mysterious or, even worse, difficult. In this class, we not only demystify how to read a poem, but we also show that the best poems teach us a little lesson about our lives, and we don't necessarily need to know how they're made to appreciate them; we simply need to know how to read them to unlock their gifts. We will discuss why people have turned to poetry for centuries to better understand their own lives. And we will be given tools to be better readers of poems.
What can we learn about ourselves through reading poetry?
Many poems reveal a great deal about both the speakers of the poem and the figures within the poem, and these voices become stand-ins for us. In this class, we will delve into the interior of our lives. That doesn't mean you have to share what's in your heart with others; it only means you will understand yourself better through learning a few tools that poets use to tap into the human condition. We will read poems from a few masters who will point the way.
What does a daily practice of reading poetry bring to your life?
In this class, we will talk about the practice of reading and how, even in our busiest day, if we take time to read a poem, we can feel more insightful and more prepared to face challenges. Beyond these gifts, we will discuss how the practice of spending a few minutes of your day in poetry can be a daily meditation within a busy work week, a meditation that can be practiced with little effort other than a few minutes of stillness, which can unlock more clarity than expected. Here is where we understand ourselves and others with more discernment.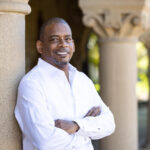 A. Van Jordan is the author of four collections: Rise, which won the PEN/Oakland Josephine Miles Award (Tia Chucha Press, 2001); M-A-C-N-O-L-I-A, (2005), which was listed as one the Best Books of 2005 by The London Times; Quantum Lyrics, (2007); and The Cineaste, (2013), W.W. Norton & Co. Jordan has been awarded a Whiting Writers Award, an Anisfield-Wolf Book Award, and a Pushcart Prize. He is also a recipient of a Guggenheim Fellowship(2007), a United States Artists Fellowship (2009), and a Lannan Literary Award in Poetry (2015). His latest collection, When I Waked, I Cried to Dream Again, was just released in June, 2023 (W.W. Norton & Co). He served as the Robert Hayden Collegiate Professor of English Literature at The University of Michigan, and he is currently the Humanities and Sciences Chair in English at Stanford University.