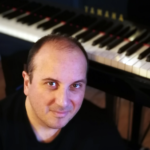 Lorenzo Marasso was born in Torino, Italy. He graduated from the Conservatorio di Milano in 1994. The same year, he enrolled in the postgraduate program at the Royal Academy of Music in London, where he also studied orchestral conducting. In 1996, Lorenzo participated in the Park Lane Group Young Artist Series performing at the Southbank Centre in London, a solo recital of contemporary compositions by Paul Patterson, James Macmillan, John McCabe and Nimrod Borenstein. Lorenzo's commitment to performing contemporary works led him to participate to the Valentino Bucchi Piano Competition in Rome where he was a prize winner. Further engagements included performing the UK premiere of Keith Jarrett's Sonata for Violin and Piano at the Hatherleigh Festival as well as works by Nigel Clarke and John McCabe in the presence of the composers. Later on Lorenzo founded String Orchestra Project, an ensemble devoted to performing the chamber orchestral repertoire with no boundaries of styles or combination of players. In 2017 Lorenzo founded Bauhaus Records, a recording label devoted to restoring a more healthy and direct relationship between musicians and the recorded product. Current catalogue include the complete Inventions and Sinfonias by J.S. Bach, performed by Lorenzo, and Haydn's The Seven Last Words of Christ on the Cross. In June 2018 Lorenzo premiered "Partizan", a staged melologue for pianist and actor that Lorenzo commissioned LA-based composer Anne LeBaron. In February 2019 Lorenzo appeared on Classical KING FM NW Focus LIVE, a radio show showcasing the Pacific Northwest's diverse music scene. Lorenzo currently lives in the Seattle area where he continues his activity of solo and collaborative pianist as well as chamber musician and educator and enjoys collaborations with the Philharmonia Northwest, Seattle University and Key to Change.
For more information visit:
www.lorenzomarasso.com – www.bauhausrecords.us – www.stringorchestraproject.com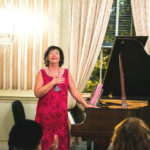 Ana Cervantes, described as "brilliant" on Rebecca Lentjes' Ten Best of 2014 in her New York blog Le Poisson Rêveur (http://www.rebeccalentjes.com/?p=131) is praised by critics as "a physical, emotional performer with mastery of tone and color" (Newark Star-Ledger, USA) as an artist of "commanding intensity" (MusicWeb International, UK) with "great interpretive qualities, enormous passion" (unomásuno, México); and as "ambassadress for the music of Mexico" (Independent on Sunday, UK).
Through her commitment to new music of all periods, Cervantes puts different times, sensibilities and musical voices into dialogue.  Impassioned creator of connections, she opens doors for her listeners.
Cervantes has inspired, commissioned and been the guiding force for major collections of new piano music from the most eminent living composers of the Americas and Europe.
For Canto de la Monarca: Mujeres en México / Song of the Monarch: Women in México (2008-2013) Ana Cervantes asked 16 composers of six countries –US, Mexico, Brazil, Colombia, England, and Spain—for a piece for solo piano inspired by women who had transcendental roles in Mexican history. The project's symbol is the Monarch butterfly: a potent metaphor for persistence and valour in a seemingly fragile body.
The music of Rumor de Páramo / Murmurs from the Wasteland –her first commissioning project, homage to landmark Mexican author Juan Rulfo—still reaps praise from the critics.
Cervantes' complete discography is available on iTunes, and the physical recordings on Amazon.
Cervantes is a former Fulbright-García Robles Senior Scholar (US-Mexico 1999-2000), and winner of an Individual Artist Award from the Bossak-Heilbron Charitable Foundation (USA, 2002), among other distinctions.
Alumna of Bard College (USA), Cervantes names Joan Tower and the late Theodore Lettvin as her most important teachers.  She leads an active international life as performer and teacher, and currently is based in the beautiful colonial city of Guanajuato, México.