Traditional Stories/New Media: Universal Themes of Humanity Found In A Hit Television Series
Josh Berman wrote and produced CSI: Crime Scene Investigation, for six seasons. His session will begin with the viewing of an episode of CSI entitled, "Werewolves". In this episode, the CSI team solves the murder of a man suffering from hypertrichosis, the werewolf disease. The investigation leads to the victim's sister, who also suffers from the medical condition, and has been living her whole life hidden from society. The viewing will be followed by a presentation in which Josh will explain how he chose the subject matter of each CSI episode and why he decided to write this episode, in particular. Thematically, "Werewolves" explores what it means to be "different" in a world where people are judged on their appearance, and how a single, small act of kindness can change a life. The presentation will be followed by Q & A.
Spiritual Underpinning of a Hit TV Show: The inspiration for Drop Dead Diva
Television writer/producer Josh Berman will present the premiere episode of his hit TV series "Drop Dead Diva". Josh will introduce and screen the episode and then discuss how he went about creating, writing, casting, selling and producing this unusual, highly acclaimed comedy series about an skinny, vapid model who dies and comes back to life as a brilliant, plus-sized attorney.  He will also highlight how Hollywood perpetuates the beauty myth and why a plus-sized lead was considered groundbreaking television. The pilot episode features series regular Margaret Cho, and the series has welcomed such guest stars as Paula Abdul, Kathy Griffin, Liza Minnelli and Rosie O'Donnell. The presentation and screening will be followed by a Q & A.
Exploring the Human Condition through a Television Show:  Are You Being Serious?
In 2011, Lifetime Television aired an episode of Drop Dead Diva entitled: "GOOD GRIEF". The episode explores grief and over-coming loss and was a Humanitas Society nominee. The Humanitas Society honors television writers for work that "explores the human condition in a meaningful way." Josh will introduce and screen the episode and then discuss the unique challenges presented in mixing comedy with tragedy. The presentation and screening will be followed by a Q & A.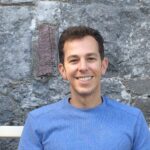 Josh Berman hails from Hollywood, California where he has worked as a television writer/producer for the past two decades and currently produces the HBOMax series The Gordita Chronicles, debuting in Winter of 2021. He began his career as a writer and producer of the hit CBS series CSI: Crime Scene Investigation for its first six seasons. Following his departure from CSI, he created two series for the Fox network: Killer Instinct and Vanished. Josh spent four seasons as Consulting Producer on the hit television series, Bones, while simultaneously writing and producing his own hit series, Drop Dead Diva, which currently airs on Starz, Amazon Video, and IMDBtv. Drop Dead Diva was nominated for a Humanitas Award, which honors writers for their work that "explores the human condition in a meaningful way." Berman also co-created the series Notorious for ABC and the reality series Murder House Flip, streaming on the Roku platform.
Josh recently served a three-year term as a Delegate on the prestigious Board of the Producers Council of the Producer Guild of America (PGA), which represents approximately 5,000 producers of film and TV. Josh has been well recognized for his work; he's been nominated for an Emmy as well as winning a Golden Globe and multiple People's Choice and GLAAD awards.
Josh has a degree in public policy from Princeton University, law and business graduate degrees from Stanford University, and a Masters in History from Sydney University where he was a Fulbright Scholar.