Soirées de Rancho:  Music of Clara Schumann and Francis Poulenc
Clara Schumann: Soirées musicales (musical evenings), Op. 6
Francis Poulenc: Soirées de Nazelles (evenings at Nazelle)
This program includes two sets of small lyrical pieces, evocative of dance and merriment. A teenage Clara Schumann wrote the six-movement Soirées musicale in 1836, including two mazurkas, a polonaise, a ballade, a nocturne, and a toccatina. Poulenc's "Evenings at Nazelles" recalls parties he used to have in the French countryside, during which he would sit at the piano and improvise "portraits" of his guests, making a game in which others would try to guess who Poulenc was emulating with his playing. Bringing in French romantic idioms and early jazz, this piece is born of joy and the desire to entertain.
Meditations and Enigmas: Music of Erik Satie and John Cage
Erik Satie:

 3 Sarabandes
Gymnopedíe No. 1

John Cage:

Dream
One(1)
 In A Landscape
This program centers around the music of two of classical music's most enigmatic individuals, Erik Satie (France) and John Cage (USA). Satie and Cage both wrote music in their careers that, while beautiful, tends to avoid the directionality and goal-oriented nature of the melody, and instead exists in a mood, in a moving statis, in a landscape. This program features beautiful pieces by these strange characters, sonic worlds in which we can rest, bathe, meditate, and inhabit.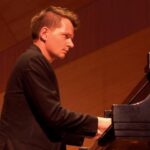 ​Kyle Adam Blair, D.M.A. is an active solo and collaborative pianist, music director, and vocal coach, specializing in the performance of American contemporary art music. His major focuses include the performance of new works in collaboration with composers and the performance of works from the American art music repertory of the 20th and 21st centuries. Outside of his frequent engagements in southern California, Blair has recently performed at the San Francisco Center for New Music, the Banff Centre for the Arts, the Hartt School of Music, the University of Buffalo, and Santa Clara University. Among these performances included the world premieres of all twelve of Bruno Ruviaro's Pos-Tudos piano etudes, the world premiere of Stuart Saunders Smith's Family Portraits: Sylvia at 70, and a faculty recital with soprano Tiffany DuMouchelle.