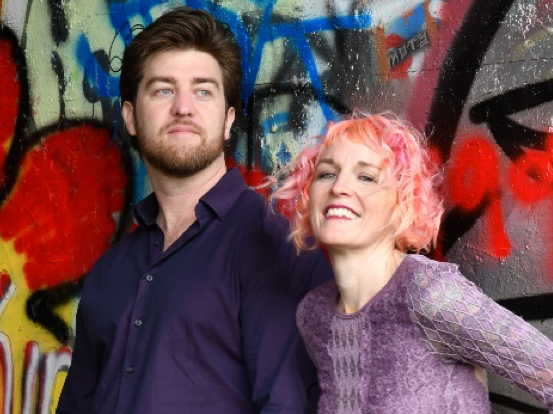 Sandi King and Joshua Taylor join voices in a swirling chemistry that is the core of King Taylor Project.  Rock guitar swells over swaggering R&B rhythms, while piano cascades and organ stabs through buttered electric bass.  Interjections thick in the blues erupt intermittently with raw, expressive spontaneity and take flight before falling back to earth amidst grounded, earnest lyrics.
The feisty and colorful daughter of a jazz trumpeter, Sandi King grew up in San Diego singing in front of her dad's big bands and soloing in school choirs and musicals. She spent several years as a chef in San Francisco, moonlighting in a rock opera cast and haunting karoke joints before moving back to San Diego in 2012 to pursue music full-time.
Joshua Taylor grew up in Oklahoma City and first picked up the guitar at the age of 13. His mother, a classically trained singer, encouraged his brazen noisemaking and timid bedroom singing. For over a decade he kept music an obsessive private hobby as he meandered through life in the Navy and later trained as a therapist. After a few years as a part-time singer-songwriter in his eventual home of San Diego, Josh self-released his debut solo album in 2015, marking his shift to a career fully invested in music.
Sandi and Josh met on the San Diego music scene early in 2015, were engaged later that year and started King Taylor Project together in 2016. They married in the fall of 2017.