Concert
Grammy Nominated singer songwriter Mary Gauthier will perform (with Jaimee Harris) songs from her extensive catalogue.
Monday, December 4 • Saved By A Song (Library Lounge)
In this session Mary Gauthier will discuss her book Saved by a Song, a study of the redemptive power of music and song to aid in recovery, connection, and personal growth. Mary will discuss her work with wounded veterans, frontline workers, and addicts and alcoholics, using music and song to help them (and her) to find agency, empathy, understanding and healing around trauma. Mary will also read from her book Saved by a Song, play songs, take questions, and tell road stories from her travels. The focus of the session will be the power of story to generate empathy. Mary believes that song and story can go beyond mere entertainment; they can bridge gaps between us, remind us of our common struggles and our collective aspirations, building a more compassionate, empathetic, and interconnected world. This will be the main point of this discussion.
Tuesday, December 5 • Saved By A Song: Let's Write! (Library Lounge)
Have you wanted to write a song with a GRAMMY-Nominated songwriter? Join singer-songwriters, Mary Gauthier and Jaimee Harris for a co-writing session. We will write a group song with your help! This will be a fun, invigorating, illuminating opportunity to pull the curtain back on the creative process of songwriting.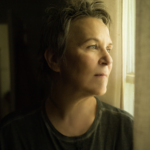 Mary Gauthier is a Grammy-nominated and much acclaimed troubadour and author whose songs have been covered by Tim McGraw, Blake Shelton, Kathy Mattea, Boy George, Jimmy Buffett, Bettye Lavette, Bobby Bare Sr. and many others. Her songs have been heard on HBO's "Yellowstone" and NBC's "Nashville". The Associated Press proclaimed Mary "one of the best songwriters of her generation", and her book "Saved by a Song" (2021 St Martin's Press) has gathered praise from everyone from Brandi Carlile to Robert Plant. Rolling Stone promptly proclaimed it "a must read."
To this date, Mary has released eleven critically acclaimed albums and won awards from the Americana Music Association, International Folk Music Awards, the Independent Music Awards, the GLAMA Awards, and the UK Americana Association. Her latest record, "Dark Enough to See the Stars", returns Gauthier to the storytelling mode similar to her 2001 breakthrough release, "Mercy Now", and 1997's "Drag Queens in Limousines." Gauthier has never shied away from difficult self-exploration, and her song writing brilliance offers beauty in sorrow, healing in loss, and a perspective only an artist of uncommon generosity can give.
On the heels of her debut album Red Rescue, hailed by many as one of the top Americana albums of 2018, Jaimee Harris does not disappoint with the release of The Congress House Sessions, a thoughtful, intimate EP with stripped-down recordings of some of her most requested songs. These new recordings, recorded at the storied Congress House Studio by Mark Hallman (Carole King, Ani DiFranco, Eliza Gilkyson) and Andre Moran (Sarah Borges, Rickie Lee Jones), feature some of Austin's favorite players, including Jane Ellen Bryant andKris Nelson on backing vocals, Ray Bonneville on harmonica, Brian Patterson on electric guitar, and Sammy Powell on piano. Don't let the healthy list of players mislead you; this is no large, speaker-rattling production. Longtime friends add color and texture, but what you'll hear is Harris and her guitar, delivering her songs in a setting closer both to what they were at their inception, alone in her room with a guitar, and how they have developed after a few years acclimating to performing without a band. Jaimee Harris loves fronting a band, and it shows. During the years she built a devoted critical and popular following in Austin, Texas, she fronted a slate of seasoned musicians with admirable swagger. When she alighted upon the scene, this jaded music city, replete with (and weary of) singer-songwriters, woke up and took notice. Here, finally, was a new voice—yes, her singing voice is noteworthy: rich, sonorous, full, delivering a uniquely stylized, throaty tone—but equally important, here was the new voice of a noteworthy writer and performer. When you watch her sing, she'll break your heart, cradle your heart, win your heart, then break it all over again. www.JaimeeHarris.com