Join the fun for a game-changing experience that will give you a treasure map and compass to design the best decade of your life, so far – at home and in the world.
In this interactive workshop spread over five days, participants of all ages and stages will be able to discover how to design the best next chapter of their lives. Specifically, participants will:
Sunday Night Program:
Discover the ways you have been playing other people's games
Write and share the "Story so far"
Let of the stories that no longer serve you.
Monday Afternoon Program:
Discover your Purpose
Imagine the history of your future
Tuesday Afternoon Program
Choose your new decade avatar (your game piece)
Review the Decade Game board to understand what winning looks like
Wednesday Afternoon Program
Construct your personal Decade Game® board that will guide your "play"
Craft the rules of your own game that delight you
Thursday Afternoon Program
Learn the tips and tricks of playing the Decade Game
Gain clarity, confidence, and courage to play full out for dear life.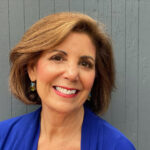 Acclaimed executive coach, business leader, and author, Carolyn Buck Luce uses her proprietary Decade Game® to coach men and women leaders of all ages and stages to step up to their purpose, step into their power and discover their destiny.
A gifted strategist, Carolyn has spent the last five decades building highly effective cultures, businesses, teams, and leaders in both the public and private sectors. From a diplomat in the USSR, to a Wall Street Banker, to healthcare futurist, as well as mother, wife and grandmother, Carolyn focuses on helping courageous leaders make the difference they dream of.
In 2022 she published EPIC! The Women's Power Play Book, which became an Amazon best seller in its first week.
LINKEDIN | IMAGINAL LABS | MY DECADE GAME | EPIC WOMEN'S PLAYBOOK ] FACEBOOK ] INSTAGRAM