Climate Change: The threefold challenge of the transition to a cleaner energy future
This first discussion will provide you a global perspective on the key facts and drivers for lowering emissions and to move the world to a cleaner energy future.
The Hitchhikers Guide to new energy solutions
An exploration of the key solutions needed to achieve the shift to a cleaner energy future – this session will be full of surprises and will be in non tech speak!
The Energy Future and Social Inequality
There are unintended consequences as we drive towards a cleaner energy future  –  paradoxically energy is both the basis for growing prosperity and if done badly exacerbates social inequality.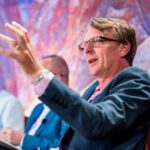 Peter Bryant is a leading thinker globally on innovation and sustainability. He is an executive business strategist with more than 30 years of experience developing and driving high-growth strategies for companies in the US, Asia Pacific and Europe. He has advised executive teams at a range of enterprises, from emerging businesses to Global Fortune 500 companies and held senior leadership roles at global companies, including General Electric and Computer Associates.
Peter is a serial entrepreneur, having been CEO/President for two emerging technology companies and Co-Founder of an enterprise software services company. He actively advises startups and mentors with accelerators such as Clean Launch, Founders and Innovation Pavilions. He co-authored The Growth Champions –The Battle for Sustained Innovation Leadership published in 2012 and is often quoted in publications including the WSJ and Forbes.
Peter is a leading authority on innovation and sustainability for multiple sectors including energy and mining. He is sought after globally as a speaker and commentator and writes extensively on these topics , and has advised many leading companies including JCI, BP, Edison International, GE, Giant Eagle, BP, Castrol, Rio Tinto, BHP, Baker Hughes, Goldcorp, Hatch, and Anglo American. This work has spanned both the design and activation of innovation within companies and the strategy for new growth opportunities in renewables; lowering emissions and accelerating electrification in areas like transportation and heavy industry.
Mr. Bryant holds a Bachelor of Commerce and Administration from Victoria University in Wellington, New Zealand. He holds a CA from the NZ Institute of Chartered Accountants and is a Fellow of the Australian Institute of Company Directors. He has sat on multiple boards for public and private tech companies. He was a founding board member of the Colorado Innovation Network (COIN) and sits on the Board of Advisors for Chrysalix, a leading global cleantech and IoT venture capitalist, various emerging tech companies (e.g. Lilac Solutions and Safe.AI) and the World Economic Forum's Mining 2050 program.